In 2019, OPPO Reno phones made their debut and embarked on an incredible journey. Although the X series was not initially available in India, OPPO decided to channel its efforts into enhancing the Reno lineup, with a particular focus on improving camera technology. This decision was met with great enthusiasm from consumers who were eagerly awaiting the release of the Reno 10 series.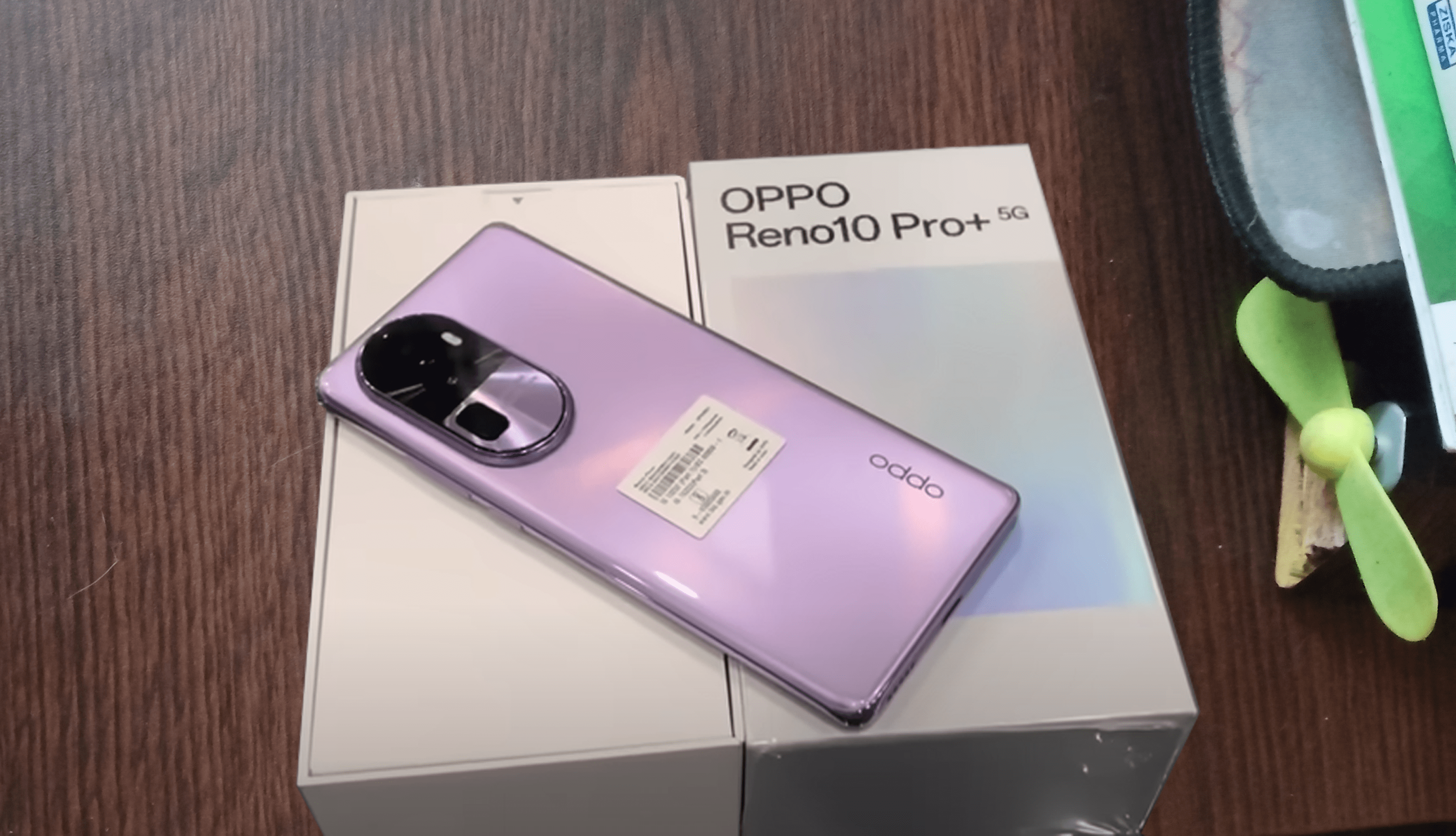 Building upon their success, OPPO has recently introduced a range of exciting products including the Enco Buds 3 Air, Reno 10, Reno 10 Pro, and Reno 10 Pro+. With each new addition to its lineup, OPPO continues to push boundaries and deliver top-notch quality devices that cater to different consumer needs.
This review will focus on the Oppo Reno 10 Pro Plus 5G, which has many improvements compared to previous models. This high-end 5G smartphone is luxurious and lightweight due to its fast Snapdragon chipset, quick charging, attractive design, and impressive telephoto portrait lens. Is it worth upgrading to the Oppo Reno 10 Pro+ for less than 55k? Let's find out.
Oppo Reno 10 Pro+ 5G Review: Design
The Oppo Reno Series is known for its stylish design and camera. Let's start by talking about the design, and then we'll discuss the camera setup in more detail. The Oppo Reno 10 Pro+ 5G has a beautiful two-tone design on the back panel. It comes in Glossy Purple and Silvery Grey, and I chose the Glossy Purple for this review. The glass panel of the smartphone has a glossy finish and looks amazing up close. I have a slight preference for purple, so I may be a bit biased, but it is also visually appealing. The Glossy Purple color option adds a touch of elegance and uniqueness to the Oppo Reno 10 Pro+ 5G. The way it reflects light creates an eye-catching effect that sets it apart from other smartphones on the market. The glass back panel seamlessly blends into the metal frame, giving it a premium feel in hand.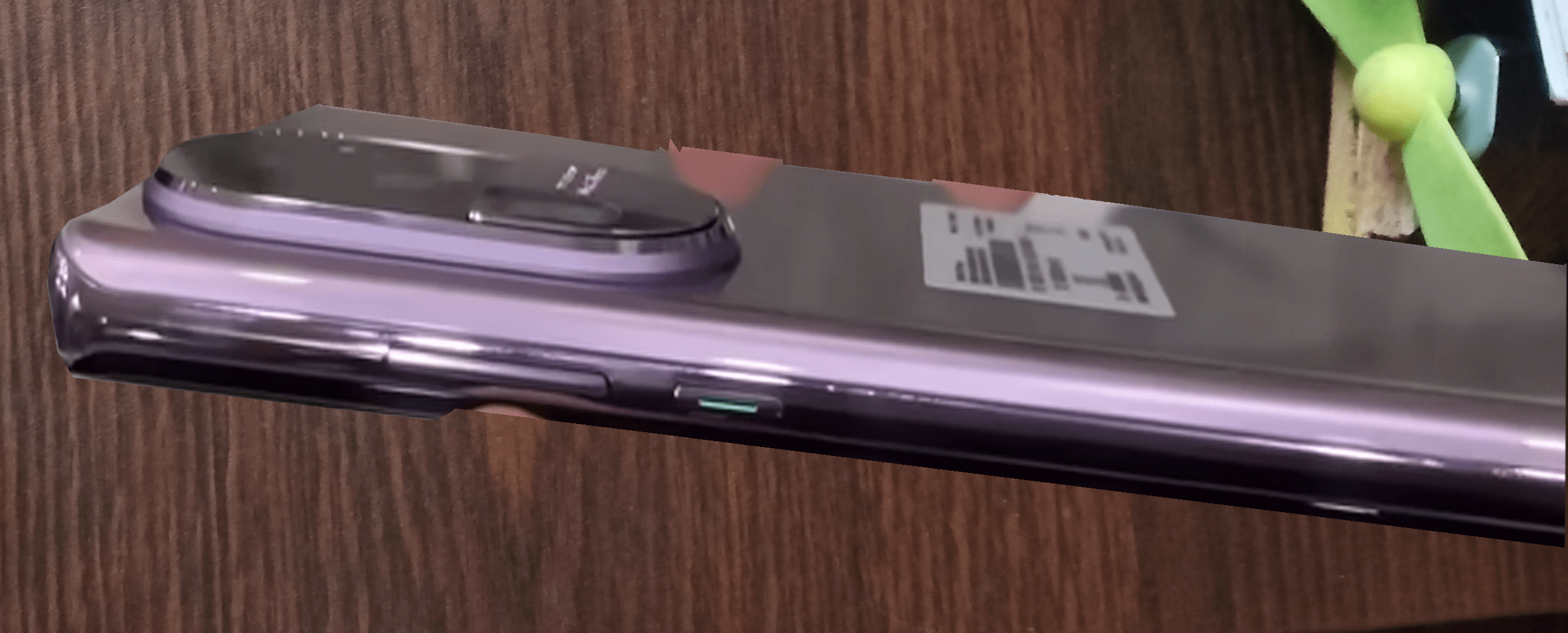 Not only does the Oppo Reno 10 Pro+ 5G boast a stunning design, but it also features a sleek and slim profile.
The Oppo brand is at the bottom of the back panel, and a camera module sticks out from the top left corner. When placed on a flat surface, the phone is uneven because of the camera module's lenses, LED flash, and slight protrusion. The left side is plain, while the right side has a power button and volume buttons. The bottom has a dual SIM tray, speaker grille, and USB Type-C port for connecting, and the top has an IR port.
The front display of the smartphone is a 3D curved OLED panel with very thin edges. Even if you have sweaty hands while holding it, the back panel stays clean without any fingerprints or smudges. The phone is slim and lightweight, measuring 8.28mm in thickness and weighing 194 grams. This sleek and compact design ensures a comfortable grip, allowing you to use the smartphone effortlessly for extended periods. The 3D curved OLED panel not only enhances the visual appeal but also provides an immersive viewing experience with vibrant colors and deep contrasts.
The thin edges surrounding the display create an edge-to-edge feel, maximizing the screen real estate for an uninterrupted visual treat. Whether you're browsing through your favorite apps, watching videos, or playing games, every detail comes to life on this stunning display.
The only problem with the smartphone is how it feels in your hand. It has a shiny finish, which makes it slippery. If you don't hold it tightly, it could fall. Some people solve this problem by using a cover, but that's not ideal for everyone.
Oppo Reno 10 Pro+ 5G Review: Display
The Oppo Reno 10 Pro Plus 5G has a large, 3D curved OLED screen that has very thin edges. The screen is good for reading articles and has a wide viewing angle. The display shows clear, sharp, and colorful images. The display can show a billion colors accurately and has a smooth scrolling experience with a 120Hz refresh rate.
With clear, sharp, and colorful images, this smartphone's display truly sets it apart from the competition. The device's ability to accurately showcase a billion colors ensures a vibrant and lifelike visual experience for users.
Moreover, the smooth scrolling experience offered by the Reno 10 Pro+ 5G's display further enhances its appeal. Whether you're browsing through social media feeds or scrolling through web pages, the responsiveness of this smartphone is commendable. With a refresh rate of 120, users can enjoy seamless transitions and fluid animations while navigating through their favorite apps and content.
The display won't get scratched or dented because it has Corning Gorilla Glass 5 Protection. The display is not very bright in outdoor settings. Oppo says it can be brightened to 1100 nits, but that's not enough when it's sunny and hard to see. This can be quite inconvenient, especially for those who frequently use their devices outdoors. Despite the Corning Gorilla Glass 5 protection ensuring durability against scratches and dents, the lack of brightness in outdoor settings remains a drawback for the Oppo display.
With Oppo's claim of being able to brighten the display up to 1100 nits, one would expect improved visibility even under intense sunlight. However, it seems that this level of brightness is still inadequate when faced with exceptionally sunny conditions.
Oppo Reno 10 Pro+ 5G Review: Camera
The Oppo Reno 10 Pro+ 5G has three back cameras: a zoom camera with 64 megapixels, a wide-angle camera with 8 megapixels, and the main 50-megapixel camera. It also has a front camera with 32 megapixels for taking selfies. Like other Oppo phones, the camera has a Pro setting for better pictures. However, the phone can't record high-definition video even though it has HDR10 support for its display. The main camera takes detailed and natural-looking pictures in the sun. There are some bright areas in bright scenes, but the overall picture quality is good. The phone doesn't have a macro camera, but the main camera can still take clear close-up photos. The lack of a dedicated macro camera doesn't hinder the phone's ability to capture impressive close-up shots. With its main 50-megapixel camera, users can still achieve clear and detailed images even when shooting subjects up close. The phone's advanced imaging technology ensures that the resulting photos maintain their clarity and sharpness, showcasing intricate details with precision.
In well-lit environments such as sunny outdoor settings, the main camera truly shines.
You don't usually have to use Night mode on your phone because it automatically takes longer exposures in low light. The camera works well in street lighting, but the images may have slightly more contrast. Even if you switch to Night mode, which is common for a smartphone in this price range, photos of dimly lit scenes may have less detail. This is because Night mode utilizes a technique called computational photography to capture multiple images at different exposures and then combine them to enhance brightness and reduce noise. While this can significantly improve the overall image quality in low-light conditions, it may also result in slightly exaggerated contrast.
Street lighting generally provides adequate illumination for your phone's camera to capture clear and detailed photos without the need for Night mode.
The ultra-wide camera works well in daylight, but the photos are not as detailed as the ones taken with the main camera and often appear too bright. When taking pictures of bright scenes, there may be some purple fringing and slight distortion. In low light, photos often have soft details and uneven textures. Additionally, the ultra-wide camera may struggle to capture accurate colors and sharpness in low-light conditions. The lack of sufficient lighting often results in noisy images with reduced clarity. Subjects that are farther away from the lens might also appear slightly distorted or less defined.
Moreover, when using the ultra-wide camera indoors or in dimly lit environments, there is a higher chance of encountering issues such as motion blur due to longer exposure times.
The telephoto camera is the best feature of the Reno 10 Pro+ 5G. Oppo has given it a very high-resolution sensor, which allows it to take amazing pictures that are rare to find on smartphones at this price. Oppo's telephoto setup can focus as close as 25 cm. It also uses a hybrid implementation, where even when zoomed in 3X, the camera software stays connected to the main camera within 25 cm. The system switches back to the 3X telephoto camera when an object is more than 25 cm away. This hybrid implementation ensures that the user can capture stunning close-up shots without compromising on image quality. Whether it's capturing intricate details of a flower petal or zooming in to get a closer look at a distant landmark, the Reno 10 Pro+ 5G's telephoto camera delivers exceptional results.
Furthermore, Oppo has incorporated advanced optical image stabilization (OIS) technology into the telephoto lens. This feature minimizes any unwanted shaking or blurring, especially when shooting at higher zoom levels.
The quality of the 3X magnified images from the main camera and the telephoto cameras is different. The pictures taken with the main camera are not as sharp as those taken with the telephoto camera because they are scaled up. However, the photos taken with the telephoto camera are very impressive. They capture subjects or objects with great depth, detail, and separation, especially in daylight or artificial light. In dimly lit or street-lit conditions, the photos appear soft and lack detail, resembling a watercolor painting.
The camera can zoom in more than 3X, but the photo quality decreases after 6X. At its maximum zoom capability, the camera surpasses the standard 3X factor, allowing users to capture distant subjects with greater detail and precision. With each incremental zoom level, the lens gradually brings us closer to our desired subject, revealing intricate details that would otherwise go unnoticed.
However, as we venture beyond the 6X mark, a noticeable decline in photo quality becomes apparent. The sharpness and clarity that characterized earlier magnifications begin to wane.
When the beautifying features are turned off, selfies look clear with accurate skin tones. This phone can also take clear selfies in low lighting, which is not common in other smartphones in this category. However, edge detection is not as accurate in low light. This can result in slightly blurred outlines and less defined edges around the subject. Despite this drawback, the phone compensates for it by offering various editing tools that allow users to enhance their selfies afterward.
Additionally, the camera's performance in well-lit conditions is truly impressive. The beautifying features come into play here, providing advanced skin-smoothing algorithms and enhancing facial features with a natural touch. These features may not appeal to everyone, as some prefer a more authentic representation of themselves.
Video taken in bright daylight at 4K 30fps is stable, detailed, and has a wide range of colors. Similarly, 4K 60fps footage is impressive with a smooth frame rate and good stabilization. When capturing video in low light at 4K 30fps, there is minimal noise, a steady frame rate, and a slightly limited range of colors. The stability is good, but the frame is slightly cropped. However, when switching to 4K 60fps in low light, the frame rate remains steady but the range of colors is limited and the video has a contrasting appearance. The ultra-wide angle cameras can only record at 1080p 60fps. Despite the lower resolution, the ultra-wide angle cameras still manage to capture impressive footage with smooth motion and decent stabilization. The colors are vibrant, but not as rich or detailed as those captured by the 4K cameras. In low light conditions, the 1080p footage retains its stability, but there is noticeable noise and a slight loss of detail compared to higher resolutions.
Overall, whether shooting in bright daylight or low light conditions, the camera's performance varies depending on the chosen settings.
Oppo Reno 10 Pro+ 5G Review: Performance
The Oppo Reno 10 Pro+ 5G is powered by Qualcomm Snapdragon 8 Gen 1 chipset. These chipsets are faster and more efficient than the previous generation. They are made using a 4nm TSMC process. The phone is very fast and works smoothly thanks to these chipsets. It doesn't lag when playing video games or doing heavy tasks like video editing. Even when I had more than 15 apps open at once, the phone didn't lag because it has 12GB of RAM. The apps launch quickly and the phone doesn't slow down when they are opened from the background. You can store a lot of things on the phone's 256GB storage. The 256GB storage capacity of the Oppo Reno 10 Pro+ 5G provides ample space for storing a wide range of files, including photos, videos, music, and documents. Whether you are a professional photographer or simply enjoy capturing precious moments with your loved ones, the phone's generous storage allows you to keep all your memories within reach.
Call of Duty: Mobile used to run smoothly on the phone for long periods, with high-quality graphics and decent frame rates. The only problem was that the phone would heat up a bit after playing for 21 minutes. This heating issue still occurs during gaming and benchmark testing, even though the phone has a 3500 mm2 VC liquid cooling system. Despite the inclusion of a 3500mm2 VC liquid cooling system, the persisting heating issue during gameplay and benchmark testing for Call of Duty: Mobile remains a cause for concern. The phone's impressive specifications, including high-quality graphics and decent frame rates, used to provide an immersive gaming experience without any major setbacks.
The Reno 10 Pro Plus uses ColorOS 13, which is based on Android 13. This software allows you to control all your home appliances from one place. The OS is colorful, easy to use, and has features like multi-screen connections and an Always on Display. However, there is a downside – the smartphone has a lot of unnecessary pre-installed apps, which is not enjoyable. The Reno 10 Pro Plus's ColorOS 13, built upon Android 13, offers an impressive array of features that enhance the user experience.
The vibrant and visually appealing interface of ColorOS 13 makes navigation effortless and enjoyable. Its intuitive design ensures that even those new to smartphones can quickly adapt and find their way around.
The phone comes with many apps already installed, such as Tiki, Spotify, Telegram, Snapchat, Moj, PhonePe, Dream 11, and others. You can delete most of them if you don't need them, but it's not smart for Oppo to include so many unnecessary apps on their top-of-the-line device. They even suggest apps in unexpected places, like the search bar in the Internet browser, which shouldn't be on a high-end phone, in my opinion. Another problem is that third-party apps don't have a 120Hz refresh rate. Oppo should learn from companies like Motorola and Nothing, which have a cleaner and better user interface and experience. These brands have managed to create cleaner and more streamlined interfaces that enhance the overall user experience.
One particular issue with Oppo's software is the placement of suggested apps in unexpected places. For instance, finding app suggestions within the search bar of an internet browser on a high-end phone seems unnecessary and out of place. This intrusive placement of suggested apps not only disrupts the user experience but also raises concerns regarding privacy and data security. Users expect to have control over their browsing activities, and having app suggestions pop up within the search bar feels like an invasion of personal space.
Furthermore, this unexpected placement can lead to accidental clicks or unintentional installations of apps that users may have no interest in. It adds unnecessary clutter and confusion to an otherwise sleek and streamlined browsing experience on a high-end phone.
Oppo Reno 10 Pro+ 5G Review: Battery
The Oppo Reno 10 Pro+ Plus 5G has a 4700mAh battery. Most mid-range smartphones now have a battery capacity of at least 5000mAh, so this capacity seems lower than that of a pricey device. However, I felt that the battery size may be smaller when I first started using it, and it drains slower. After a full day of use, which included taking pictures, browsing, making calls, playing games, and listening to music, it had about 32% battery left which is good.
Additionally, with just 20 minutes of charging, the handset can be used for over half a day, thanks to the 100W SuperVOOC charging. This charging technology can fully charge the gadget in under 30 minutes. The SuperVOOC S Power Management Chip also helps improve the charging capacity. Overall, the battery and charging performance of this device are excellent and leave little room for complaints. The battery and charging performance of this device are undoubtedly impressive. With its long-lasting battery life, even with heavy usage throughout the day, it still had about 32% of the charge remaining. This is a testament to the efficiency and optimization of power consumption in the device.
One notable feature that enhances its charging capabilities is the 100W SuperVOOC charging technology. In just 20 minutes of charging, users can enjoy over half a day's worth of usage.
Final Verdict: Should you buy it?
The Oppo Reno 10 Pro+ Plus is a top-tier smartphone with a very fast processor, super-fast 100W charging, stylish and lightweight design, amazing OLED display, and exceptional camera setup.
The Reno 10 Pro+ is a photo partner that avoids issues like unwanted software, screen brightness in sunlight, and a slippery back panel. If you want a phone that lasts all day, works fast, and lets you capture important moments, the Oppo Reno 10 Pro+ might be a good choice if you can't afford a very expensive one.

The Oppo Reno 10 Pro+ 5G Review: The Good, the Bad, and Everything In Between