With Samsung's Galaxy Z Flip 5, the company seems to have found the sweet spot for improvements on an already industry-standard phone. Despite its recent foldable taking a cautious approach, the Flip5 manages to feel like a significant generational step up. The Flip5 boasts a sleek and modern design that showcases Samsung's expertise in engineering. With its slim profile and lightweight construction, this device is incredibly portable, making it perfect for users on the go.
One of the standout features of the Flip5 is its enhanced durability. Samsung has incorporated a new protective layer for the foldable display, ensuring that it can withstand everyday wear and tear without compromising functionality. This improvement gives users peace of mind knowing that their investment will last longer.
One of the standout upgrades is the much-needed cover screen, which is now larger and considerably more useful (with a few restrictions). Additionally, the pivot design has been improved, allowing the Flip5 to fold flat instead of forming an edge, making it more compact and convenient.
Another notable improvement is the inclusion of the Snapdragon 8 Gen 2, offering a fresh and powerful processor. It's also worth mentioning that the base storage has doubled to a generous 256GB, providing users with ample space for their files and apps. This upgrade ensures faster and more efficient performance, allowing users to seamlessly multitask and run demanding applications without any lag or slowdown. Whether you're a gaming enthusiast, a creative professional working with resource-intensive software, or simply someone who wants a smooth and responsive experience while using their device, the Snapdragon 8 Gen 2 processor will undoubtedly deliver.
With the base storage now starting at 256GB, gone are the days of constantly worrying about running out of space on your device.
While the lens system and internal display have seen minor adjustments and improvements in brightness, they may not be particularly groundbreaking. However, when looking at the Z Flip5 as a whole, it brings just the right amount of differences and enhancements to make it a worthy successor.
It's important to note that expectations for disruptive changes may be unfounded, as the Flip5 seems to have carefully honed in on what works and chosen to build upon it. Now, let's dive into a detailed review of the specific features and capabilities of the Galaxy Z Flip5.
Samsung Galaxy Z Flip 5 Review: Design
The Galaxy Z Flip 5 brings along a game-changing feature that has everyone buzzing – the cover screen. But Samsung hasn't stopped there; they have also introduced another noteworthy update that may not catch your eye right away. Referred to as the "Flex Hinge" by Samsung, this innovation allows the Flip 5 to fold completely flat when closed, eliminating any unsightly gaps that plagued its predecessor. Not only does this feature enhance the phone's overall aesthetic appeal, but it also makes it slightly thinner than its predecessor. Going from 17.1mm at its thickest to a mere 15.1mm when closed, the Flip 5 becomes even more sleek and pocket-friendly. This minute 2mm difference may not seem significant at first, but it truly elevates the phone's feel, making it feel more polished and refined. As someone who has always been bothered by the gap in the Galaxy Z Flip 4, witnessing the Flip 5 fill that void is truly a delight.

You'll also notice that the Galaxy Z Flip 5's lid feels a little looser than it did in earlier models, as Samsung claims on its website. But don't think this is a bad thing. Even after using the Z Flip 4 for days, opening it usually felt a little tight. Even without the gap, I still find the Galaxy Z Flip 5 to be very simple to open and close. It feels much smoother now. The hinge doesn't feel any less sturdy as a result of the smoother movement, which is the best part. The hinge can still be supported at almost any angle.
Additionally, the Z Flip 5's hinge feels noticeably more well-designed than the Motorola Razr Plus '. When the Motorola flip phone is opened, it makes more noise, and when it is closed, you may feel and hear the two halves rubbing against one another. There are no such quirks with the Galaxy Z Flip 5, and while it will be interesting to see how both phones fare after months of consistent use, I wouldn't be surprised if Samsung's model holds up better. The attention to detail in the design of the Z Flip 5's hinge is commendable, creating a satisfying and noise-free user experience. Not only does the hinge allow for smooth and effortless folding and unfolding of the device, but it also provides a sturdy and secure feel when in use. Samsung has clearly put a lot of thought into the engineering of this hinge, ensuring that it can withstand repeated opening and closing without any issues.
One notable feature is the Hideaway Hinge technology, which allows the Z Flip 5 to stay open at various angles.
But together, they make a significant difference in the overall user experience. The improved power and volume buttons may seem like a small detail, but they enhance the phone's usability by staying firmly in place and providing a satisfying tactile response. The vibration motor, while not exceptional, feels much better than previous models and doesn't emit an unpleasant sound. The speakers offer a louder and more immersive audio experience, making media consumption and phone calls more enjoyable. Additionally, the IPX8 rating ensures that the Z Flip 5 can handle water splashes and submersion just as well as top-tier flagship smartphones like the Samsung Galaxy S23 Ultra or iPhone 14 Pro. However, it's important to note that this rating doesn't guarantee dust-proofing. Therefore, while the Z Flip 5 can confidently withstand accidental spills or even a quick dip in the water, it may not be as resilient against fine particles like dust and sand. This means that users should exercise caution when using the device in dusty environments or places with a high concentration of dirt.
Despite this limitation, the IPX8 rating is still a remarkable feature for the Z Flip 5. In conclusion, the Galaxy Z Flip 5 impresses with its attention to detail and robust design, making it one of the most well-built flip phone foldables currently available in the market.
Samsung Galaxy Z Flip 5 Review: Display
Ever since it was introduced in 2020, Samsung's cover screen has been a constant presence. Although it started off as a small notification strip, it has gradually increased in size. But now, with the release of the Z Flip 5, everything has changed. The new Flex Window, measuring 3.4 inches and featuring Super AMOLED technology, is truly impressive. It brings a much-needed boost to the phone, infusing it with more energy than ever before. With its vibrant colors and sharp display, the Flex Window enhances the user experience to a whole new level. Whether browsing through photos, watching videos, or scrolling through social media feeds, every detail comes to life on this stunning screen.
Not only does the Flex Window offer an immersive visual experience, but it also provides added functionality. Users can now multitask effortlessly by splitting their screen into two separate windows. While the screen's resolution may be lower than that of the Razr+, it more than makes up for it with its wide viewing angles and vibrant color tones. Its ability to seamlessly blend in with the phone's design is also a clever touch that I personally appreciate.
The cover screen of the Galaxy Z Flip 4, which measures 1.9 inches, looks quite small in comparison to the expansive Flex Window. However, this compact size of the cover screen doesn't compromise functionality. Despite its small dimensions, it is still fully capable of delivering essential notifications and quick access to important information. Users can easily glance at their incoming messages, check the time, or see who is calling without having to unfold the phone.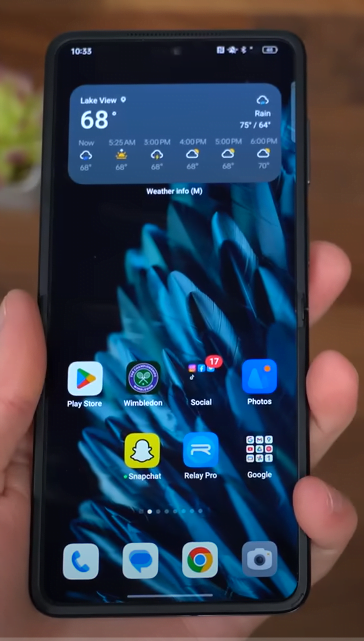 The cover screen also offers a range of customizable options for users to personalize their experience. They can choose from various watch faces or select a background that matches their style and preferences. The Flex Window is a major leap forward for this phone. It offers a completely different experience with its widgets, various apps, and improved ways to frame photos and videos. At present, there are only a handful of fully functioning apps available, such as Google Maps, Message, Netflix, WhatsApp, and YouTube. These apps have become an integral part of our daily lives, providing us with convenience and entertainment at our fingertips. Whether we need to navigate through unfamiliar streets, stay connected with loved ones, or binge-watch our favorite shows, these apps have revolutionized the way we live.
Google Maps has transformed the way we travel by providing real-time navigation and traffic updates. Gone are the days of getting lost or stuck in endless traffic jams. However, I expect that more apps will be added to the lineup in due course. This is particularly noteworthy since all apps can be used on the outer screen of the Motorola Razr+.
Despite this limitation, I really enjoy using the Flex Window. It is conveniently located right beneath the notifications panel and allows me to easily respond to different apps. For example, I can comfortably compose replies to Instagram and Slack messages using the on-screen keyboard, which I found to be adequately sized for typing.
Except for the recently introduced Flex Window feature, the primary 6.7-inch FHD+ (2640 x 1080) Dynamic AMOLED 2X display didn't have any major differences. The display is complex, offering a range of viewing perspectives, and has a vibrant quality that stands out. I discovered that swiping from left to right on the screen with its 22:9 aspect ratio was effortless, but reaching the top corners of the display required me to stretch my fingers. However, the vivid and sharp visuals made up for this minor inconvenience. The colors on the screen were incredibly vibrant and accurate, bringing images and videos to life with stunning clarity. Whether I was watching a movie or browsing through my photo gallery, every detail was beautifully rendered.
The Dynamic AMOLED 2X display also offered impressive viewing angles. No matter how I held the phone or tilted it, the screen remained consistently bright and clear from all directions.
Samsung Galaxy Z Flip 5 Review: Camera
In the future, I hope that the Z Flip line will eventually have a proper telephoto lens. However, the Galaxy Z Flip 5 currently has a dual-camera setup that is quite similar. It includes an ultra-wide angle f/2.2 camera and an 18-megapixel main camera. While there have been some performance improvements compared to last year's foldables, they are not very significant. The ultra-wide angle f 2.2 camera captures stunning panoramic shots, allowing users to capture more of the scene in a single frame. With its high resolution of 18 megapixels, the main camera delivers sharp and detailed images.
Although there have been some performance improvements compared to last year's foldables, they may not be groundbreaking. However, these enhancements contribute to an overall smoother and more efficient experience for users.
The camera app remains the same as before, but it now has new features like portrait video, hyperlapse, and director's view. One notable change is the addition of a large Flex Window, which makes it easier for me to record vlogs and selfies. With the Flex Window, I can see the whole shot without having to adjust the framing constantly. Because of this, I find myself using it more often.
However, I must admit that I'm a bit disappointed with the quality improvements, especially when taking routine shots in ideal lighting conditions. I struggle to see any noticeable enhancements in the shots taken with the Flip 5's main camera when compared to the same scene captured using a different camera.
Both the Z Flip 4 and its main competitor, the Razr+, tend to have over-exposed photos. From what I can see, the Z Flip 5 has better exposure and a wider dynamic range compared to the Razr+. This is evident when using the 12-megapixel ultra wide-angle f/2.2 camera as well. The Flip 5 captures better exposure while maintaining the same range as the Flip 4.
In my opinion, the Flip 5's wide-angle camera is superior to the Razr+ due to its wider field of view and more vibrant color tones. Samsung claims that the Z Flip 5 uses its AI-powered image signal processing algorithm to optimize photos, especially in low light conditions. While the Z Flip 4 also improves photo quality in low light, the Flip 5's night mode produces brighter and more precise shots, despite slightly warmer colors. When recording videos, there is no grain in the Flip 5, unlike its predecessor, while still providing clear visibility for capturing the perfect composition.
I recommend using the rear cameras and the Flex Window for selfies because of the better quality. However, if you choose to use the main display's 10MP front-facing camera, it still outperforms the Z Flip 4 in terms of performance. Overall, I prefer the Flip 5 because it has slightly sharper images and casts warmer color tones.
The portrait mode on the Flip 5 is slightly better than the Flip 4 because it can detect edges more accurately. The Flip 4 tends to blur some of my hair and ear in portrait shots, while the Flip 5 captures those areas with more clarity. Both phones do a great job of recognizing people and faces, creating a nice blurry background effect, but the Razr+ doesn't offer the same range of flexibility. With the Flip 5, I can adjust the intensity of the background blur and even change the bokeh shape to my liking. This level of customization allows me to truly enhance my portrait shots and make them stand out. The Flip 4, on the other hand, has a more limited range of options when it comes to adjusting the bokeh effect.
Another advantage that sets the Flip 5 apart is its improved low-light performance.
As a videographer, I appreciate that the Z Flip 5 still offers manual video controls, as I often use smartphones as secondary cameras for professional shoots. Samsung has struggled to keep up with the competition in this area, so the Z Flip 5 is a valuable tool for me. The improvements in video recording, which maxes out at 4K 60FPS, are also minimal. However, the Z Flip 5 still manages to offer a unique and innovative design that sets it apart from other smartphones on the market. Its foldable form factor allows for a compact size when closed, making it easier to carry in pockets or bags. When unfolded, the Z Flip 5 reveals a stunning 6.7-inch Dynamic AMOLED display with vibrant colors and sharp details.
When comparing videos, it's clear that the Z Flip 5 performs better in terms of dynamic range compared to the Razr+. The Razr+ tends to blow out highlights, while the Z Flip 5 produces a more balanced exposure. The Flip 5 also can optimize photos taken with digital zoom, resulting in slightly softer tones but clearer details due to oversharpening. While digital zoom can be relied upon for getting closer shots, it may not always be necessary. Overall, the improvements made by the Z Flip 5 are minimal at best.
Samsung Galaxy Z Flip 5 Review: Performance
The Galaxy Z Flip 5, which is equipped with the "Snapdragon 8 Gen 2 for Galaxy" chip found in the Galaxy S23 family earlier this year and has 256GB of UFS 4.0 storage, delivers exceptional performance. No matter how many Google Chrome tabs I have open, or if I'm watching 4K videos or playing Marvel Snap instead of working, the Flip 5 never feels slow. Even during long gaming sessions or when multitasking intensively, the phone may get slightly warm, but it never reaches a concerning or uncomfortable temperature. The Galaxy Z Flip 5's powerful processor and ample storage also make it a reliable device for content creators. Whether I'm editing high-resolution photos or creating intricate videos, the phone handles these tasks with ease, allowing me to unleash my creativity without any frustrating lag or delays.
Furthermore, the Galaxy Z Flip 5 boasts an impressive battery life. With its efficient power management system combined with a generous battery capacity, I can confidently use this phone throughout the day without constantly worrying about finding a charger.
Running on Android 13 and featuring Samsung's exclusive One UI 5.1.1 software, the Flip 5 offers a familiar experience for Samsung phone users. While One UI hasn't undergone significant changes, it still offers a plethora of additional features that aren't found in the stock version of Android. I particularly enjoy the ability to add widgets and custom app shortcuts to the lock screen, as well as the fully customizable always-on display, which extends to the Flip 5's cover screen.
Samsung also provides extensive control over the power box, allowing users to launch cameras or apps easily. Additionally, Samsung's app optimization for folding flip phones remains unmatched. For example, when folding the phone halfway in the YouTube app, the video is automatically resized to fit the top portion of the screen, optimizing playback controls.
However, while there are many features in One UI that I find useful, such as Bixby, pop-up windows for running apps, and the Edge panels menu, there are also several that I don't have a need for and unintentionally open, such as Samsung's approach to Android software. Despite this, I do appreciate the variety of settings and tools it offers. However, my personal preference leans towards the more straightforward software found on Google Pixel and Motorola smartphones.
However, what truly sets Samsung apart is its exceptional software update policy. The Galaxy Z Flip 5 promises major Android updates and security updates for a remarkable five years. Samsung's commitment to updates surpasses even Google's own policy for its Pixel phones, making it the best in the industry. If you're concerned about getting new features and important security updates, Samsung has got you covered. With the Galaxy Z Flip 5, users can rest assured that they will not only experience the latest and greatest Android updates but also receive essential security patches to keep their devices protected. Samsung's dedication to providing five years of updates sets a new standard in the industry, ensuring that customers continue to enjoy a cutting-edge smartphone experience long after their initial purchase.
By prioritizing software support, Samsung demonstrates its commitment to customer satisfaction and long-term usability.
Samsung Galaxy Z Flip 5 Review: Battery
The Z Flip 5, like other high-end Samsung phones, boasts Qualcomm power. The Snapdragon 8 Gen 2 for Galaxy, with a higher clock and a custom-tuned CPU, provides a noticeable performance boost. Instead of offering a 128GB option, Samsung has chosen to focus on providing 8GB of RAM and either 256 or 512GB of storage.
Running on Android 13, the Z Flip 5 is impressively responsive. It swiftly opens apps and smoothly handles split view, demonstrating its ample processing power. Although we couldn't perform a comprehensive stress test due to the already installed apps, previous Samsung phones have proven to be powerhouses, so we can expect similar performance. Gamers, in particular, will appreciate the increased performance capabilities.
While the processor is slightly more energy-efficient compared to the previous model, the Z Flip 5 does not have additional space for larger batteries. Therefore, the battery life remains uncertain. It still retains the 3700mAh capacity of its predecessor. We anticipate being able to stay away from power sources for an extra hour or two at most, although using more apps on the smaller external display may shorten that time. The Z Flip 5's battery life is a subject of concern for many potential buyers. With the same 3700mAh capacity as its predecessor, it raises questions about whether it will be able to keep up with the demands of the upgraded processor and potentially more power-hungry apps.
Samsung has made efforts to optimize power consumption on the Z Flip 5, but it remains uncertain how much improvement can be expected.
We've noticed that when it comes to charging, the Oppo Find N2 Flip stands out compared to other flip phones. While the Z Flip 4's charging speed is decent with a maximum output of 25W over USB-C, the Oppo Find N2 Flip is able to refuel its larger battery in less time. With this speed, you can get a 50% battery top-up in just 30 minutes. Additionally, it's great to see that the Oppo Find N2 Flip offers wireless and reverse wireless charging. This means that in case of emergency, you can conveniently add more power to your other devices.
Final Verdict: Should you buy it?
The Motorola Razr Plus received high praise in my previous review, where it was described as the long-awaited folding phone. In another article I wrote, it was even hailed as my favorite smartphone of 2023. Throughout this review, I have frequently mentioned the Galaxy Z Flip 5 as it is the main competitor to the Razr Plus, at least in the United States. But for me, the Flip 5 doesn't quite capture the charm of the Razr Plus. Personally, I find myself gravitating more towards the Razr Plus phone, whether it's because of its magenta leather back, sleek cover screen, or simpler Motorola software. However, when considering the bigger picture and thinking about which folding phone most people should choose for $1,000, it's hard to avoid recommending the Galaxy Z Flip 5 over the Motorola flip phone.
There are various reasons for this. When it comes to folding phones, the Samsung hinge has noticeably better construction. The Z Flip 5 boasts a more advanced processor, extensive software support, and an overall more impressive design, all of which contribute to an enhanced camera experience. The setup process for the cover screen may be a bit challenging, but once you get it right, it fulfills almost all of your desired features.
Let me put it this way: If you're in the market for a $1,000 folding phone, the Samsung Galaxy Z Flip 5 is the one you should go for. While I personally have a preference for the Motorola flip phone, there's no denying that Samsung's offering is undeniably superior in terms of quality.
Samsung has earned its reputation as the reigning champion of folding phones, and the Galaxy Z Flip 5 ensures that this title won't be changing anytime soon.