The Infinix GT 10 Pro, Infinix's newest smartphone, has generated a lot of excitement in the market even before its official release, which is quite rare for an Infinix phone. The main reason for this anticipation is its design inspired by the Nothing Phone. This newly launched smartphone incorporates elements from the Nothing Phone and is specifically designed for gaming-oriented buyers, providing excellent performance. Of course, there are a few areas that could be improved, which we will discuss later in this review.
Lately, Infinix, the Chinese smartphone company, has introduced some interesting smartphones for Indian consumers. However, the GT 10 Pro stands out as something different and special. With a price below Rs 20,000, this smartphone offers an appealing range of features that will attract consumers seeking a capable phone in this price range. To give you an overview, the smartphone is powered by a MediaTek Dimensity 8050 processor, combined with 8GB of RAM and 256GB of storage. It also boasts a 108-megapixel camera setup. Additionally, it comes with gaming controls and fingertip features that enhance the gaming experience, though these perks are only available to the first 5000 buyers.
On paper, the specifications of the new Infinix phone appear promising, but how does it perform in real-life scenarios? If you are considering purchasing this new phone from Infinix, we recommend reading our review first.
Infinix GT 10 Pro Review: Design
The distinctive rear panel of the Infinix GT 10 Pro sets it apart, featuring a translucent-like aesthetic achieved through the use of plastic. While not truly transparent, it gives the illusion of being see-through, adding to its appealing look. Gamers, in particular, will be drawn to its energetic design. Moving on to other features, this review is based on the Cyber Black color variant, which combines various shades of black and grey with orange accents, creating a gamer-like appearance. The Cyber Black color variant of the Infinix GT 10 Pro exudes a sense of power and dynamism, making it an ideal choice for gaming enthusiasts. The combination of black and grey tones adds a sleek and sophisticated touch to the overall look, while the vibrant orange accents inject a burst of energy into the design.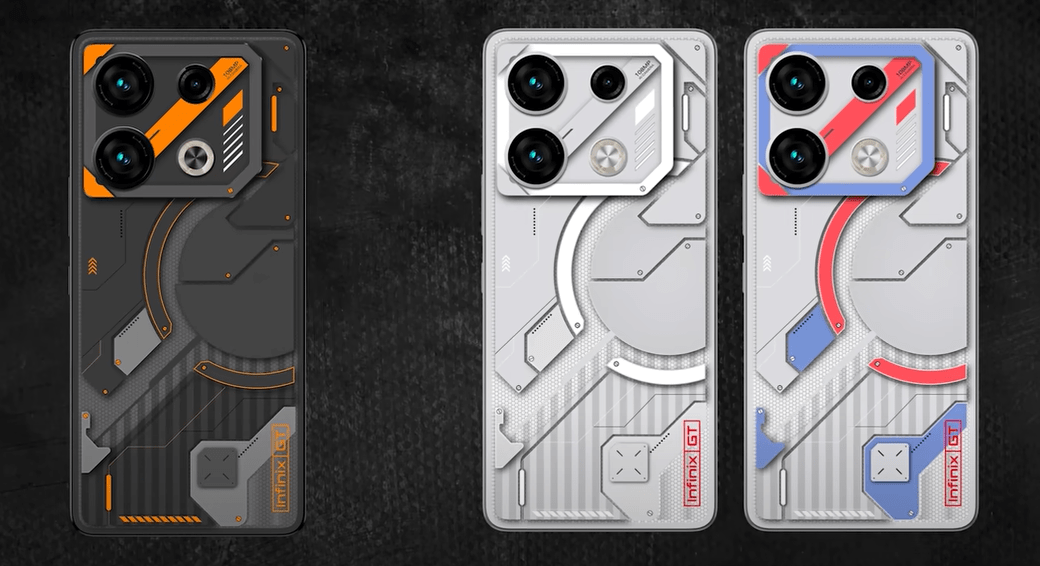 The rear panel's translucent-like aesthetic is truly captivating.
A unique touch is the thin strip next to the camera module that lights up as a charging indicator, adding a new element to the device's user interface. The phone's overall design is fairly standard, but I appreciate its lightweight nature at 187g and a reasonably thin body measuring 8.1mm. The combination of the lightweight construction and slim profile makes the phone comfortable to hold and easy to slip into pockets or bags without adding unnecessary bulk. The smooth edges further enhance the ergonomic feel, providing a seamless grip that doesn't strain the hand even during prolonged use.
Additionally, it boasts a dual-speaker setup that produces decently loud audio and includes a 3.5mm headphone jack for those who prefer wired audio. The audio quality of the dual-speaker setup is surprisingly impressive, delivering rich and clear sound that fills the room. Whether you're watching a movie, listening to music, or playing games, the speakers provide an immersive audio experience.
Furthermore, for those who prefer a more personalized audio experience or want to avoid disturbing others in public places, the inclusion of a 3.5mm headphone jack is truly appreciated. The USB Type-C port is located at the bottom, and the left side houses a dual-SIM plus microSD card slot. This allows for expandable storage and the option to use two SIM cards simultaneously. The inclusion of a dual-SIM plus microSD card slot is a great feature for those who frequently travel or need extra storage space for their files, photos, and videos.
The placement of the USB Type-C port at the bottom ensures convenient charging and data transfer capabilities. With this universal port, users can easily connect their device to various peripherals such as external monitors, keyboards, or even projectors. Constructed with a unibody plastic frame, the GT 10 Pro also features a volume rocker bar and a power button positioned below it. The placement of these buttons allows for easy access and comfortable control. The sleek design of the GT 10 Pro is further enhanced by its vibrant display, which stretches from edge to edge with minimal bezels.
The unibody construction not only adds durability to the device but also gives it a premium feel. Made from high-quality plastic materials, the frame is resistant to scratches and everyday wear and tear. This ensures that the GT 10 Pro maintains its flawless appearance even after extended use.
Infinix GT 10 Pro Review: Display
The Infinix GT 10 Pro is equipped with a large 6.67-inch screen that has a resolution of 1080×2040 pixels, ensuring clear and detailed visuals. With a peak brightness of 900 nits, the screen remains bright even in direct sunlight, making it easy to read. Impressively, the display supports a high refresh rate of 120Hz and a touch sampling rate of 360Hz, resulting in smooth and responsive touch interactions. This means that scrolling through social media feeds, playing games, and navigating the device will feel incredibly smooth and fluid. The high refresh rate also reduces motion blur, making it ideal for watching videos or movies with fast-paced action scenes.
The color reproduction on the screen is vivid and lively, making visuals pop and providing an enjoyable viewing experience. The narrow bezels around the corners further enhance the immersive feel, allowing the content to take center stage without any distractions. The display also boasts impressive brightness levels, ensuring that even in well-lit environments, the images remain clear and vibrant. Whether you're watching a movie, playing games, or editing photos, every detail is rendered with stunning accuracy.
In addition to its exceptional visuals, the screen's wide viewing angles ensure that everyone can enjoy the content from any position. Whether you're sitting directly in front of it or off to the side, you won't experience any color distortion or loss of image quality. I personally tested the phone by watching shows and videos, and I found the viewing experience to be satisfying.
Although the speakers are not extremely loud, they still deliver decent sound quality, making the device a suitable choice for individuals who like to watch content on the go. Additionally, the device is equipped with advanced audio enhancement technology, allowing users to customize and optimize the sound settings according to their preferences. Whether you prefer a bass-heavy sound or a more balanced audio experience, this device has got you covered.
Infinix GT 10 Pro Review: Camera
The device has a decent 108MP triple-camera setup, but it may not live up to expectations for amazing photography. The pictures taken in daylight are full of detail and vibrant colors, although at times the colors may be a bit too vibrant. When the AI mode is enabled, the saturation levels become even more pronounced, especially in the bright greens of foliage. The phone performs well in terms of dynamic range and other photographic metrics in bright sunlight. However, the nighttime shots are not as good. Capturing a decent image is often challenging due to issues with focusing and shutter speeds. To prevent noise, the device tends to overprocess the images, resulting in a loss of detail. Even with the Super Night AI-based feature, the exposure and highlights around a subject are not satisfactory.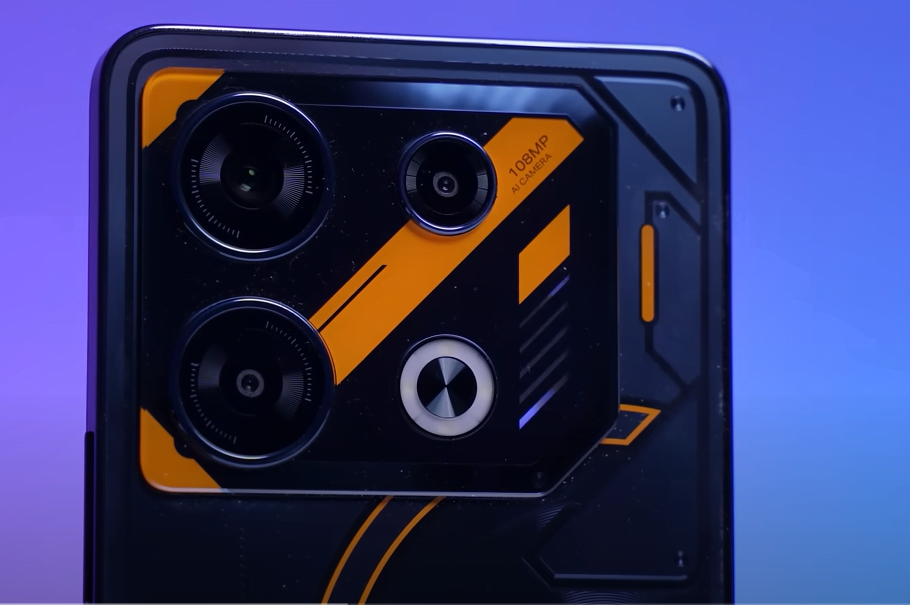 In addition to that, the device also features a 2MP depth shooter that performs poorly even in good lighting conditions. The same can be said about the macro sensor, which has a 2MP resolution that makes it difficult to capture sufficient details. Furthermore, the device's camera setup includes a 2MP depth shooter that disappointingly falls short even under optimal lighting conditions. The images produced lack clarity and depth, leaving much to be desired in terms of quality. Similarly underwhelming is the performance of the macro sensor, boasting a mere 2MP resolution that struggles to capture intricate details effectively.
When attempting close-up shots with the macro lens, users are often left frustrated by the lack of sharpness and definition.
When it comes to portrait photography, including bokeh shots, the device performs adequately with some room for improvement in edge detection.
In terms of video, the phone is capable of recording up to 4K @ 30fps with optical stabilization. Lastly, there is also a 32MP front-facing camera that captures slightly overprocessed images in terms of facial details, but overall produces nice results. The front-facing camera also offers various beauty modes and filters to enhance your selfies. It can record videos in 1080p resolution, making it ideal for vlogging or video calls.
Infinix GT 10 Pro Review: Performance
As soon as I set up the Infinix GT 10 Pro, I was immediately impressed by how incredibly fast it was. The device's performance was really swift, especially when I unlocked it and began scrolling through different apps. With the Dimensity 8050 processor and 8GB RAM, along with 8GB of extended RAM and 256GB of internal storage, the Infinix GT 10 Pro ensures seamless multitasking and a pleasant user experience. One notable improvement is the absence of bloatware, which used to be a common issue with Infinix smartphones. However, this new model runs on Android 13 with Infinix's latest Pure XOS, which means no more unnecessary apps cluttering up the phone. The interface now looks much cleaner compared to previous Infinix phones, making it a refreshing change. The GT 10 Pro also boasts a stunning 6.8-inch Super AMOLED display with a resolution of 1080 x 2400 pixels, providing vibrant colors and sharp details. Whether you're watching videos, playing games, or browsing the internet, the visuals are truly captivating.
In terms of camera capabilities, Infinix has stepped up its game with the GT 10 Pro.
Over the course of a few days of using the device, I didn't experience any delays while browsing websites or switching between apps. The phone also didn't have any overheating problems, except for when the camera app was left on for more than 14 minutes, which caused some heat.
When it comes to benchmarking scores, the Infinix GT 10 Pro performed remarkably well. It achieved an impressive single-core score of 1102 and a multi-core score of 3398 on Geekbench 6. These scores indicate that the Infinix GT 10 Pro is a powerful device capable of handling demanding tasks with ease. The high single-core score signifies its ability to efficiently execute single-threaded applications, while the commendable multi-core score showcases its prowess in multitasking and running resource-intensive apps.
In addition to its impressive benchmarking scores, the Infinix GT 10 Pro boasts a range of features that further enhance its performance.
Now, let's talk about the gaming performance. If you're one of the lucky 5000 buyers, you'll receive gaming controls and finger sleeves to enhance your gameplay. I personally tested the Infinix GT 10 Pro with games like Asphalt 8: Airborne and Survival: Fire Battlegrounds and was really impressed with the gaming experience. Even when playing on high graphic settings, the phone performed flawlessly and there were no issues with frame drops. This was especially noticeable with graphics-intensive games like Asphalt 8: Airborne and Survival: Fire Battlegrounds. The smooth gaming experience really added to my overall positive feelings about the phone. What's more, even after 35 minutes of gaming, the phone didn't heat up, which is crucial for comfortable gaming sessions. The seamless performance of the phone during gaming was truly impressive. Not only did it deliver high-quality graphics and smooth gameplay, but its ability to stay cool throughout the entire 35-minute session added an extra level of comfort. This meant that I could fully immerse myself in the game without any interruptions or discomfort caused by a hot phone.
As someone who enjoys long gaming sessions, this feature was especially important to me.
Infinix GT 10 Pro Review: Battery
The Infinix GT 10 Pro comes with a strong 5,000mAh battery that ensures reliable performance throughout the day. It also supports 45W fast charging, although we feel that it is slightly slower compared to what is currently considered the norm in the smartphone industry. However, the Infinix GT 10 Pro makes up for its slightly slower charging speed with its impressive battery life. With moderate usage, the device can easily last a full day without needing to be plugged in. This is great news for users who are constantly on the go and don't have time to constantly charge their phone.
In terms of usage, the phone offers a decent amount of screen-on time. For everyday tasks, you can expect approximately six hours of continuous usage. Even for power-hungry activities like gaming, the device performs well and provides around four hours of screen-on time.
This means that you can enjoy gaming, streaming, or working for longer periods without constantly worrying about needing to charge your device. It easily lasts for a full day and can even stretch to nearly two days with moderate usage.
Final Verdict: Should you buy it?
The Infinix GT 10 Pro is truly impressive with its swift performance, extended battery life, and impressive gaming capabilities. Taking inspiration from the trendy Nothing Phone, its design is sleek and has great appeal among young purchasers. The display is vibrant and the phone operates seamlessly with hardly any unnecessary software. Regrettably, the camera performance is disappointing, as the 108-megapixel setup fails to produce clear and detailed photos in both bright and dim lighting situations. Nonetheless, with the numerous enhancements the phone needs, I believe it still offers excellent value for its price, particularly for gamers in search of a dependable and efficient device.