SiteGround web hosting company was founded by Ivo Tzenov in March 22, 2004 based in Sofia, Bulgaria. They claim to be the fastest growing web hosting provider in the world as well as the best support and customer service in the industry. It has hosted approximately 2 million domains worldwide as of January 2020. They have been in the business for over 17 years and have been providing web hosting services to above 2,800,000 of clients worldwide. According to SiteGround officials, their customer satisfaction rate is 98%, with a steady increase of 2% every year for the past five years.
Their specialized in-house WordPress speed and security solutions boosts both your site's web configuration effortless making it fast, secure. SiteGround offers automatic upgrades, free SSL service, free CDN, daily backups, one-click staging and GIT version control.
They provide different hosting packages which come with differential pricing rates and impeccable customer service. SiteGround can be used by blogs, businesses with medium-sized websites or large-sized online stores.
In a nutshell, SiteGround offers robust hosting solutions for businesses. They operate with an exceptional uptime, quick loading speeds, and premium customer service. The company has 24/7 customer support via chat or phone to answer any questions you might have. SiteGround is a host that you can use to build up your business, which will make everything easier.
As part of our review process, we will look at each aspect of the plans and features and discuss what it means going forward in terms of how they have evolved and where they are headed with their services. In order to do so, let's start by taking a look at some of their key offerings.
Pros
Great Uptime & Site Speed
Free SSL Certificate and CDN
30-Day Money-Back Guarantee
WordPress Recommended
Top-Notch Customer Support
Cons
No Free Domain Name
No Monthly Billing Cycle
SiteGround Review At A Glance
| | |
| --- | --- |
| Performance Grade | A+ |
| Free Website Migration | ✔ |
| Easy-to-use cPanel and Dashboard | ✔ |
| Uptime | 99.99% |
| Average Load Time | 491 ms |
| Average Response Time | 137 ms |
| Free Domain | ❌ |
| Free SSL | ✔ |
| 1-click WordPress | ✔ |
| Money-Back guarantee | 30 days |
The SiteGround interface is a powerful and easy-to-use interface that allows you to quickly and easily change the settings of your website. For instance, if you want to disable Google Analytics on your site, it is as easy as checking the box on the right side of the screen. You can also navigate through different pages of editing options by clicking on tabs at the top of the screen. It has all the tools you need to create a professional website, such as drag-and-drop design, a one-click installation feature for WordPress, and basic drag-and-drop website creation. SiteGround interface has a lot of benefits that will be helpful for anyone who wants to start a new website or blog.
It's never been easier to get your professional-looking website than it is with the SiteGround interface.
Performance (Page Speed And Page Load Time)
The site speed is a prominent factor in the success of a website. Many businesses in today's fast-paced world are faced with a challenge in speed. SiteGround offers a wide variety of hosting options to ensure that your website loads quickly.
SiteGround is constantly working to make their servers as fast as possible. This includes upgrading their servers, improving their caching, and doing everything in their power to keep their customers connected.
If you're running a website that relies on getting traffic from search engines, then you should be aware of your site's speed. There are many factors that contribute to how fast and responsive your site is and Google has been penalizing slower sites since 2015 for this reason. SiteGround comes with powerful tools to help you improve your site's page speed so that it can rank higher in organic results.
Server Response Time
A slow website response time is a major issue for any user that is trying to access the site. SiteGround is a well-known web hosting company that offers high-end performance at competitive rates. Our recent study from SiteGround has found that overall response time for their servers is extremely low-tending towards about 250 milliseconds in most cases which means that it is one of the fastest servers available in the industry. This low latency gives SiteGround an advantage over their competitors when it comes to performance. This is because SiteGround has partnered up with some of the best companies in the industry.
We will use three online tools, Pingdom, GTmetrix, and Bitcatcha to test the page load time of the SiteGround server. We used a simple WordPress blog on the SiteGround server as our test site.
Pingdom

GTmetrix
Bitcatcha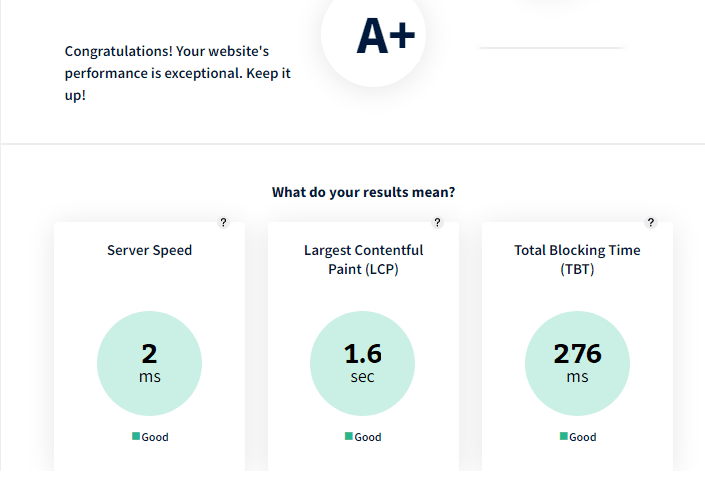 Our results show that the average page load time on the SiteGround server is 272 ms, which is excellent.
The website with no visitors is not a great method for testing. Our test site was tested under peak traffic conditions. We used another tool called K6(LoadImpact) to provide virtual traffic to our website. This increased its traffic level by 100 simultaneously.
Here is the result:
The website we used as a benchmark provides an overall lovely experience, with a very speedy loading time of 272 ms.
Good Uptime
In the world of web hosting, sites can go down at a moment's notice for a variety of reasons. SiteGround's reliability is second-to-none, having hosted more than 2 million domains with no downtime. Millions of people use a site without much thought until it goes offline and they can no longer access their data or do anything on the site. For those who have taken the time to investigate which website hosting company is best for them, SiteGround promises 100% uptime for all customers.
Last 12-month average uptime (April 2021 to March 2023):
| | |
| --- | --- |
| Mar-22 | 99.98% |
| Feb-22 | 100% |
| Jan-22 | 100% |
| Dec-21 | 100% |
| Nov-21 | 100% |
| Oct-21 | 99.97% |
| Sep-21 | 100% |
| Aug-21 | 100% |
| Jul-21 | 100% |
| Jun-21 | 100% |
| May-21 | 100% |
| Apr-21 | 100% |
This means that their customers have experienced no downtime in last 12 months.
WordPress Recommended Hosting
WordPress recommends SiteGround for its reliability, speed, and affordability. A survey conducted by WordPress found that most WordPress blogs use SiteGround as their hosting provider, which makes it one of the most popular hosting providers for the WordPress community. SiteGround has developed and implemented a one-click WordPress installation, SG Optimizer and Supercacher feature to their hosting plans. These are the best WordPress hosting features available today.
The popularity of WordPress-based websites is growing at an incredible rate, which means more and more people are looking for reliable hosting services. SiteGround is one of the best hosting providers available on the market today.
Free Website Transfer
The transfer of a site over to SiteGround is the perfect opportunity for the webmaster to take complete control of their web presence. But many website owners, the process of transferring a personal site can be tedious and time-consuming. SiteGround is one of the few hosts out there that offers free transfer services to make it easy for you!
The process can be taken care of in minutes with SiteGround's Free Website Transfer tool, and all the data will be transferred with no problems whatsoever. If you cannot, contact the SiteGround support team, they will do it on your behalf or give you a detailed list of steps to follow so that nothing is missed in the transfer process.
This is a fantastic offer from a reputable host that can help save you from hiring someone else to do the work for what might be an expensive fee.
SiteGround's Optimization Tools
SiteGround offers two different types of optimization tools – SuperCacher and SG Optimizer to help their customers optimize their websites.
1. SuperCacher
SiteGround SuperCacher is an excellent solution to speeding up your website. In order to keep up with the fast-paced online world, SiteGround has introduced SuperCacher for their customers. SiteGround predicts that the caching service will speed up load times and increase conversion rates. This service is designed to speed up the loading process and provide an enhanced user experience by storing content at strategic locations around the globe. This way, when a website's users navigate to it again, the content will be readily available and load quickly, even 50% – 500% faster.
2. SG Optimizer
SiteGround SG Optimizer WordPress Plugin is a free tool that optimizes WordPress sites for faster loading times. The plugin uses caching to improve the performance of images, CSS files, and JavaScript files. It also removes autoloader scripts from the footer or header to speed up page loading time. It was designed for SiteGround customers with its hosting service, but any WordPress user can use it with a .com, .org, or .info domain.
Furthermore, the plugin will run in the background and continuously monitor your site for new issues and problems that may occur in the future.
If you go with SiteGround hosting, SG Optimizer would be an excellent replacement for WP rocket.
The plugin comes with the following necessary features:
SuperCacher Controls
Image Optimization
Environment Controls
Frontend Optimizations
SiteGround Security Features
SiteGround provides a high level of security for your website. They offer a range of security features to monitor and protect your site, data, and users. These include Real-Time Monitoring System, Free Daily Backups , A Custom Web Application Firewall (WAF), SiteGround AI anti-bot system, SiteGround Security WordPress Plugin and SiteGround's SSL Encryption.
1. Real-Time Monitoring System: 24/7 Monitoring By SiteGround Security Specialists
Monitoring your site is one of the more important aspects of SEO. With SiteGround Real-Time Monitoring, you can stay on top of the status of your website at all times, so you know what's going on as it happens. Your website is your online business, one where you can show off your work and abilities. Sadly, even the most well-built sites are vulnerable to hackers who may try to steal your information or use your site for malicious purposes, but SiteGround has a solution. They've created an automatic security system that will monitor all traffic to and from your site at all times, so if anything suspicious is found, it will be dealt with instantly. Also, they have an independent site monitoring team that monitors customers' websites 24/7. You'll receive instant notifications when there are performance issues or outages so you can take immediate action.
The Real-Time Monitoring feature is similar to other systems like Google Webmaster Tools and Pingdom. Servers and tracking tools create the alerts.
2. Free Daily Backups : Protecting Data Against Cyber Attacks
SiteGround offers its customers free daily backups for protecting their data against cyber attacks. This service will keep backup copies of your site on a daily basis, including before and after any changes you make. In addition, you can request a specific section of your website be backed up by the system.
It's imperative to ensure your business data is stored safely in the cloud. While this backup service automatically saves daily backups and keeps 7 copies of your cloud account, it also has a highly secure data center location in another city, state, or country. Furthermore, this cloud account has an in-built capability to generate up to 5 free backups on demand from their control panel. Each backup is kept for 7 days.
3. A Custom Web Application Firewall (WAF): Real-Time Threat Prevention Engine
SiteGround has the best Web Application Firewall(WAF) available, complete with an easy-to-use control panel. This powerful Web Application Firewall comes with an advanced real-time threat prevention engine to help protect your site from the latest and most common types of attacks (Web-based DDoS attacks, SQL injection, cross-site scripting, script kiddie attacks, etc.).
4. SiteGround AI Anti-Bot System: Say Good By ! to Spammers.
SiteGround is a popular web host. They frequently update their security and malware defense systems to adapt to current trends in hacking and fraud (unfortunately necessary precautions). SiteGround was the first hosting company to create AI anti-bot system which identifies spam comments and defends against comment spam. SiteGround's new system is actively monitoring millions of websites daily to identify and suspend bots.
5. SiteGround Security WordPress Plugin: Provides Almost Everything To Secure Your Website
Many sites have succumbed to hacking or have become hosts for viruses. Thankfully, there are plugins out there to help fix these problems. SiteGround has created its own free plugin for WordPress users to keep your site safe from brute-force attacks, compromised login, data leaks, and more. Their team of experts specializes in the field, creating a solid suite of tools that can ward off attackers and viruses and offer great advice. SiteGround Security WordPress plugin has over 200,000 Active installations as of November 2021 and offers excellent tools that help site owner's security.
6. SiteGround's SSL Encryption: For Any Sensitive Data
SiteGround offers SSL encryption on all WordPress installs. SSL encryption from SiteGround ensures that your data is protected from man-in-the-middle attacks. SSL encryption also helps to ensure that your site is not visible from anywhere other than the Internet, even if your ISP or network administrator has configured certain ports to be open. SSL encryption secures your data on a "host-to-host" level, so that even if a hacker manages to hack into one of your web hosts, they would still not be able to see the contents of your site.
Free SSL Certificate
Secure Socket Layer (SSL) is a security technology used to protect private information on the Internet. An SSL certificate is a way to enable an encrypted connection on any website. It verifies the identity of websites, and it does this by unlocking encryption for secure connections over the Internet. A SiteGround free SSL certificate can help increase your site's security by encrypting data between your server and the browser. The SiteGround free SSL certificate is available on all SiteGround hosting plans. When a customer purchases a package, they receive an email alerting them to the SSL Certificate and how to install it.
Three types of SSL certificates are available on SiteGround hosting:
Let's Encrypt SSL;
Let's Encrypt Wildcard SSL;
Premium Wildcard SSL.
Free Cloudflare CDN Service
CDN, or content delivery network, is an infrastructure of servers scattered around the world that store website data to speed up the load time of a webpage for visitors based on their location. Every SiteGround account comes with free access to Cloudflare CDN. This powerful CDN offered by SiteGround is an excellent way to reduce the load on your website's server, and it also provides faster loading times for users.
This free CDN provides faster content delivery and improved website loading speeds for customers. SiteGround customers can now enjoy the benefits of a global CDN without having to pay any additional costs for this service.
By adding an HTTPS URL to your site that points to Cloudflare's CDN servers, you can ensure that visitors from around the world are sent to the server closest to them. This will improve the speed of your website.
Multiple Server Locations
To keep up with the growing demand for website hosting, SiteGround has multiple server locations. These servers are located in 6 different countries around the world. This means if you are on a really slow connection or just need to access your files from an alternate location, you can do so with ease. These data centers are advance ones which are equipped with the most updated system configurations and security measures to ensure that no data gets leaked or manipulated and optimized for speed and uptime. You can always relocate your site to a different data center if there is a need.
SiteGround currently uses the following data center locations:
Iowa, USA
London, UK
Eemshaven, Netherlands
Frankfurt, DE
Sydney, AU
Singapore, Singapore
30-Day Money-Back Guarantee
SiteGround gives you an easy no-questions-asked 30-day money-back guarantee for all of their shared hosting plans and a 14-day money-back guarantee for cloud hosting plans. This guarantee protects the customer if they find themselves unsatisfied with the performance or technical aspects of SiteGround's services. If you are not satisfied with your purchase, you can request a full refund within the first 30 days and they will refund 100% of what you paid. SiteGround will issue a refund if you have not exceeded their bandwidth limit, installed any types of files onto the server, opened more than one account, nor exceeded their fair use policy. SiteGround has shown that they have confidence in themselves and want to show you that they are trustworthy.
This is a great option for those who are unsure of the type of website they want to build and whether or not SiteGround is the right fit. SiteGround's commitment to customer satisfaction is exemplified through this guarantee that allows customers to try out their service at no risk.
To request a refund, please get in touch with them, and include your order number in the email along with why you are requesting a refund, and then SiteGround will provide a full refund.
Top-Notch Customer Support
SiteGround's customer service is one of the essential features of their hosting services. They are committed to providing an exceptional level of customer service. The company has a dedicated customer support team available 24/7 to help create powerful sites, resolve issues, and answer questions via phone, email, and live chat to keep their customers happy. With SiteGround's fast and efficient customer service, you will never be left in the dark wondering what to do next.
In order to get help from the customer support team, you need to log in to the Client area and find the "?" icon in the top right corner. Click on it, and a pop-up window will appear. From the View Help Center section, select Contact Us, and you'll be able to talk to a team member.
SiteGround Hosting Plans and Pricing
From business owners to authors, everyone needs perfect web hosting for their website. The hosting package that you choose for your site can be the difference between it being successful or not. SiteGround offers various plans and features to help you get up and running quickly, whether you're getting started with a blog or building a brand new e-commerce site.
There are several different ways to host your website, and the decision largely comes down to what you're willing to spend. SiteGround has several hosting plans available, so take some time to compare them and pick one that suits your needs best.
1. SiteGround Shared Hosting Plans: Starts At Only $3.99 Per Month
There are a lot of web hosting providers that offer shared hosting, but SiteGround is one of the most reputable and well-known ones. SiteGround is a perfect example of a hosting provider that you cannot go wrong with. They offer plenty of features including unlimited websites, Unmetered bandwidth, upto 40 GB Storage, along with many essential features such as: On-Deman Backup Copies, Speed Boosting Caching, Staging, Ultrafast PHP and more that make their shared hosting the best on the market.
SiteGround Shared Hosting Plans Breakdown:
Startup Plan: Starts At Only $3.99 Per Month
The StartUp plan is perfect for new businesses who want to get started and stay competitive in the market. The plan starts at $3.99 per Month, including 10,000 monthly visitors and 10 GB disk space and only one website hosted on one account. You also get the necessary features like 1-click WordPress install, free setup, website transfer, daily backups, built-in caching (SuperCacher), free CDN, free SSL, and more; these come in handy if you're planning to buy a SiteGround StartUp plan. If you renew your hosting after the introductory offer expires, it will cost $14.99 per Month.
GrowBig Plan: Starts At Only $6.69 Per Month
The GrowBig plan lets you host unlimited websites, and it comes with 20 GB of disk space which is more than enough for someone wishing to host a website. It's suitable for hosting if the person has an average of 100,000 monthly visitors, so one can host 10-20 websites with the GrowBig plan. This plan has all the features of StartUp plan, plus you'll receive premium super-speedy PHP for even faster speed, on-demand backups or access to an easy Staging Tool, and you can add collaborators to your sites. When your introductory offer expires, the hosting will cost $24.99 per Month if you renew it. GrowBig is the best-selling plan of SiteGround.
GoGeek Plan: Starts At Only $10.69 Per Month
The most fabulous SiteGround shared hosting plan is the GoGeek. It is the most budget-friendly package that even you can afford. The plan includes many features that you can use to manage your site easily. It is the best shared hosting plan for beginners. It is suitable for both personal and business websites.
This plan will provide you with unlimited websites, 40 GB of disk space and up to 400,000 monthly visits. This plan is good if you are a growing business and want to have a complete website. GoGeek includes everything from the GrowBig plan plus Staging + Git, White-label Clients, Highest Tier of Resources and Priority Support. Your hosting will cost $39.99 per Month when your introductory offer expires if you decide to continue it.
2. SiteGround WordPress Hosting Plans: Starts At Only $3.99 Per Month
With SiteGround, you can build your website with WordPress, the open-source web application framework. SiteGround has everything you need to build a successful website if you are an individual or a business owner. They are even highly recommended by WordPress. SiteGround enables you to install WordPress on your domain with 1-click installation service.
SiteGround's WordPress Starter kit prompts you to log in to your website and successfully set it up. The whole process takes minutes from start to finish. It's even not that hard for one without any experience.
With SiteGround's WordPress setup, you can create posts, pages and galleries as if it was any other self-hosted WordPress site.
SiteGround's WordPress hosting has a free SiteGround Migrator plugin. This is one of the most popular features. You can also use this helpful plugin to move your existing WordPress websites.
The company's shared hosting plans are similar to this plan regarding price. The options for each customer are one, two or three year contracts.
SiteGround offers a skimpy yet effective plan for small businesses to host their WordPress tier. The StartUp plan, which includes 10 GB of storage and 10,000 visitors per month, starts at $3.99 per month and can host one website, renews at $14.99 per month. The GrowBig plan, which includes 20 GB of storage and 100,000 visitors per month, starts at $6.69 per month and can host unlimited WordPress sites and renews at $24.99 per month. The GoGeek plan, which includes 40 GB of storage and 400,000 visitors per month, starts at $10.69 per month and can host unlimited WordPress sites and renews at $39.99 per month.
SiteGround also offers you different free WordPress themes. Unlimited email and monthly data transfers are included in all plans.
3. SiteGround WooCommerce Hosting
SiteGround has well-optimized hosting environments to handle any scale of a WooCommerce store. This is the web host we recommend for WooCommerce stores, and they are a perfect choice if you're unsure which option to choose.
SiteGround's WooCommerce Hosting auto-installs WordPress and the WooCommerce plugin onto your site. It functions similarly to their Web Hosting product, except that it's specifically for those hosting a website using WordPress + Woocommerce. So, you can be sure that your store will run smoothly.
The only thing you need to do is pick your desired Woocommerce hosting plan and sign up, then start uploading your store files through our Shopping Cart Wizard after logging in. The whole process is fast and seamless, making it easy for you to get your store up and running.
WooCommerce gives you the ability to sell anything online with SiteGround's range of high-performance Managed WooCommerce hosting plans ensuring your site is 100% secure with the free pre-installed SSL, a unique AI anti-bot system, and custom Web Application Firewall (WAF).
When you're selling online, there is a single thing to worry about: shipping. SiteGround lets you do this with the cheapest plans, which provide access to Magento, OpenCart, PrestaShop, and more.
Can you even do drop shipping, where your sales can be greater than with merchandise in inventory? Your e-commerce business might grow faster than the traditional store.
SiteGround will also include a convenient staging tool if purchased with WooCommerce GrowBig or GoGeek plan. You can develop your store without expending any unnecessary efforts by testing changes on the staging copy before updating the WooCommerce product.
WooCommerce hosting plans and pricing are similar to the company's shared hosting plans.
4. SiteGround Cloud Hosting: Starts At Only $100 Per Month
Cloud hosting is a popular choice for growing websites, blogs, and other content-heavy sites because it offers the possibility of scaling up to meet demand without a long-term commitment. It also provides flexible CPU and bandwidth allocation configuration and significant benefits over traditional hosting such as scalable resources, instantaneous scalability, and instant backups.
SiteGround Cloud Hosting is an industry leader in providing the highest quality service for website hosting, business hosting, WordPress hosting, and more.
Their cloud hosting features are exclusively designed for people that want to own their website and become fully self-reliant, including Easy Start & Managed Updates, Guaranteed Resources, Fully Managed Service, Easy Management Of Client Accounts, Easy Scaling For Growing Businesses, Staging, Git & WP-CLI, Dynamic Caching & More. You will get up to 16 CPU Cores, 20GB Memory, 160GB SSD space, and 5TB data transfer from their cloud hosting plans.
SiteGround's cloud hosting includes:
An intuitive control panel.
Free daily backups.
One-click WordPress installation.
Increased speed.
SiteGround offers four different tiers of cloud hosting: Jump Start, Business, Business Plus, and Super Power. So, according to your preferences, you are free to select the most convenient plan for you.
SiteGround's Cloud Hosting Pricing:
Jump Start starts at $100/month
Business starts at $200/month
Business Plus starts at $300/month
and Super Power. starts at $400/month
But, that's not all. The great thing about SiteGround is that you can customize your cloud hosting plan based on your website's requirements. You can customize all of the plans to suit your unique needs. Finally, if you are not a professional or a technical individual, you can select SiteGround cloud hosting as the hosting company manages all service and setup functions. If you want maximum flexibility while deciding on a hosting plan, you might appreciate SiteGround cloud hosting.
5. SiteGround Reseller Hosting: Starts At Only $6.69 Per Month
SiteGround Reseller hosting is a way to start your own web hosting company and use the same tools and features that SiteGround offers with its hosting services. It uses effective tools to easily resell hosting services and manage multiple websites. It's recently become more popular due to the lower prices in comparison to competitors. If you are looking for a web hosting provider that is reliable, affordable, and, best of all, easy to manage, then SiteGround Reseller Hosting is the right choice.
SiteGround Reseller hosting offers a simple, cost-effective way for web designers and agencies to provide hosting to their clients. They are the perfect solution for freelance designers, small businesses, or startups who cannot spend their time managing their sites.
All the reseller packages offer Unlimited Web Hosting Accounts, Support for Free WordPress Installation, Free WordPress Migrater, Daily and on-demand backups, and more. You'll also offer your customers access to Free SSLs and Free CDNs. You're able to enhance your customer's security, accessibility, and e-commerce functionality by incorporating some of these features. Easy Staging, Collaborators, White-Label Clients, Priority Support are a part of the hosting account are included with your clients' accounts too.
SiteGround offers three types of reseller hosting options:
GrowBig: Reselling out of the box- $6.69/mo.
GoGeek: White-label reselling- $10.69/mo.
Cloud: Superior reseller control- $100/mo.
Compare With Best 5 Hosting Services
What makes SiteGround different from other web hosting companies?
When choosing a hosting, be sure to consider what you really need. Many website builders supply inexpensive prices and complimentary domain registration, but they cannot supply additional services.
| | | | | | | |
| --- | --- | --- | --- | --- | --- | --- |
| Web Host | Price Per Month | Sites | Traffic (mo.) | Disk Space | Free Domain | 24/7 Support |
| SiteGround | $0.99 | 1 | 10, 000 Visits/mo. | 10 GB | ❌ | ✔ |
| Bluehost | $2.75 | 1 | Unmetered | Unmetered | ❌ | ✔ |
| HostGator | $2.75 | 1 | Unmetered | Unmetered | ✔ | ✔ |
| DreamHost | $2.59 | 1 | Unmetered | Unmetered | ✔ | ✔ |
| Hostinger | $1.39 | 1 | 100 GB | 30 GB | ❌ | ✔ |
Is SiteGround Fit For Your Business?
SiteGround is a well-known company that provides reliable web hosting solutions. Whether you are looking for an enterprise-level host or just need some basic services for your business, SiteGround has what you are looking for. They have affordable plans for everyone and provide convenient features for all businesses.
Since SiteGround will offer an inexpensive package that leaves you with lots of web space, telephone service, and a free domain name for the first year, it's an excellent choice over the typical competitor options. SiteGround's features make utilizing the web efficient, secure, and dependable.
Frequently Asked Questions (FAQs)
Why Should I Choose SiteGround For My WordPress Hosting?
SiteGround's WordPress hosting package includes comprehensive features that optimize page speed and security for your WordPress site that improve user experience.
Does SiteGround Offer Email Hosting?
Yes, SiteGround's shared hosting plans offer email hosting features. These make it possible to use as many different email addresses as you desire with your site.
What Kind Of Customer Support Will I Get From SiteGround?
SiteGround's dedicated customer support team is available 24/7, and you can access them with an email, live chat, or phone call.
What Servers Does SiteGround Use?
SiteGround uses Linux servers instead of Windows servers. All servers are Linux-based (Fedora 29), and all are configured to support both Apache and Nginx.
Which SiteGround Plan Is The Best For WordPress?
SiteGround's WordPress hosting plan is a managed web hosting solution suited to your WordPress sites. It completely transfers your WordPress website from your previous web host's servers to SiteGround with no downtime guaranteed.
Does SiteGround Charge Extra For Backups?
All plans come with automatic daily backups for free, but the Startup plan does not feature on-demand backups. You will have to buy this separately, or you can upgrade to GrowBig for up to 5 on-demand backups.
Is SiteGround Compatible With Woocommerce?
SiteGround specializes in WooCommerce and WordPress hosting. If you are running an online store that uses WooCommerce, trust SiteGround's WordPress and web optimization services to consistently optimize performance and security.
They're one of the top WooCommerce hosting companies so that it's simple for beginners to make a start-up shop without needing any coding skills.
Does SiteGround Offer Cpanel Hosting Services?
No, SiteGround no longer offers cPanel hosting, so it does not have this feature. SiteGround opted to eliminate cPanel hosting and created its own superior web hosting control panel for beginners and advanced users after cPanel increased its licensing prices. These improvements allow for inexpensive managed WordPress web hosting and other related features.
Does SiteGround Offer A Website Builder?
Yes, you have SiteBuilder, the included tool in SiteGround hosting accounts. A simple drag-and-drop builder makes website creation easy without more advanced technical skills. Content elements such as text, photos, and videos are added simply by inserting them into your website's page by clicking, dragging, and dropping.
SiteGround is an excellent option for any website owner looking for dependable web hosting services that fulfill all of your web hosting needs because they offer reliable servers, constant security updates, and feature-rich software. SiteGround offers all of this at very competitive prices, so you will likely see the value of SiteGround's service right away. They provide robust hosting solutions with 24/7 excellent customer support, easy-to-use site builder tools, and more. SiteGround guarantees your satisfaction with their product, or they'll give you your money back! SiteGround offers many features that can help you grow your website's traffic and security, such as an automatic content delivery network (CDN) and daily backups, automatic upgrades, built-in WP caching, free SSL, one-click staging, and GIT version control.
SiteGround Hosting Review Summary
Price Starts at $3.99/mo
Now 73% Off!
Go To SiteGround
PROS
Great Uptime & Site Speed
Free SSL Certificate and CDN
30-Day Money-Back Guarantee
WordPress Recommended
Top-Notch Customer Support
CONS
No Free Domain Name
No Monthly Billing Cycle
Add your review
|
Read reviews and comments