Online hosting services are a dime a dozen. With so many, it can be hard to choose the one that suits your needs best. The biggest misconception about these services is that they are not customizable and do not offer different levels of features for different types of people. This article will explore how Hostinger is a company with a wide range of options and how their customer service is one of the best in the industry.
Hostinger is one of the best and most trusted hosters on the market, and their services are affordable and completely reliable. They have been in business since 2004 and have serviced over 29 million customers in 178 countries and counting. They distribute all 10 of their data centers internationally in order to keep your sites fast around the globe so you can choose the location that is most convenient for you.
Whether you need a website or blog, or want to offer online storage space, Hostinger has the perfect option for you. Plus, it offers a free domain name for all new customers and offers excellent support to improve your experience with Hostinger.
The Pros and Cons of Hostinger
Hostinger has many features that make it an ideal host. However, there are some Pros and Cons to be considered before making the decision to use their services.
Pros
Solid uptime, super-fast Speed
1-click WordPress auto-installer
Free Domain and Free SSL
Multilingual customer support
30-day money-back guarantee
Cons
The expensive plan has daily backups, but the cheaper plans do not.
Hostinger Review At a Glance
| | |
| --- | --- |
| Performance Grade | A+ |
| Website Migration | Hostinger offers to transfer your WordPress site for free |
| Control Panel and Dashboard Experience | Easy-to-use cPanel |
| Uptime | 99.95 |
| Average Load Time | 707 ms |
| Average Response Time | 210 ms |
| Hosting Types | Shared, Cloud, VPS, WordPress |
| Free SSL | Yes |
| 1-click WordPress | Yes |
| Payment Methods | PayPal and All Major Credit Cards |
| Website Builder | Yes |
| Money-Back | 30 days moneyback guarantee |
| Support | Phone / Live Chat / Knowledge base |
Hostinger Expert Review 2023
Why should you trust Hostinger with your web hosting service needs?
Hostinger is a superb and user-friendly web hosting service with many options, catering to their customers' needs. Suppose you're worried about your site's trustworthiness, speed, and protection. In that case, Hostinger will be the best hosting firm for you as their entire focus is optimizing the security of websites and their web page speed. Hostinger rightfully receives positive testimonials from its clients due to its unbeatable Customer Service and excellent Live Chat support but additionally has inexpensive web hosting packages. Below is an excellent list of reasons to use Hostinger as your web host:
With more than 18 years of experience in the website hosting sector, Hostinger has made it its mission to make web hosting easy for all. With safety, speed, and ease of use in mind, its hosting services have spared no expense.
The Hostinger website features an easy-to-use interface, and all of your hosting needs can be found in one place. No special skills are required to create content or upload files. It has numerous tools that are easy to use to save you time, money, and stress when running your business online. You don't need any prior knowledge of web design or IT in order to use Hostinger's tools. With Hostinger, all you have to do is enter the desired domain name (e.g., YourName.com) and leave the rest to Hostinger.
Although Hostinger does not have a traditional cPanel, it has large icons that can be found to access what you need and when quickly.
Their billing process is one of the most straightforward options. You can choose between different plans to suit your needs, including one-time payments or monthly subscriptions.
Page speed/load time/response time
The term page speed refers to the time it takes for a webpage to load. A number of variables can determine how fast your page loads, including the size and weight of images on the site, or which Internet browser you are using.
Page load time is calculated by dividing how many milliseconds it takes to load all the content on the page, including images, with the number of pages. So if each page loads in 2 seconds then that website has a page load speed of 2000 milliseconds.
Slow page speeds can lead to a loss of online customers. Hostinger, a prominent web hosting provider, created a new and improved page speed tool which can be accessed on their website and provides thorough insight into the current state of how quickly your site is loading for each visitor. The Hostinger Web Page Speed tool has been designed to speed up website loading times and provides you with an accurate overview of the potential improvements that can be made. It provides very fast page load times, 350 milliseconds average. The loading time of your web page will increase if you include so many images. For that reason, consider choosing a fast and stable hosting provider.
Research finds that a 1-second delay in site loading decreases a user's satisfaction by 16%, page views by 11%, and conversion rate by 7%.
Let's test the performance of the Hostinger server. We will measure speed by jumping to our test site using three online tools, Pingdom, GTmetrix, and Bitcatcha:
1. Pingdom

2. GTmetrix

3. Bitcatcha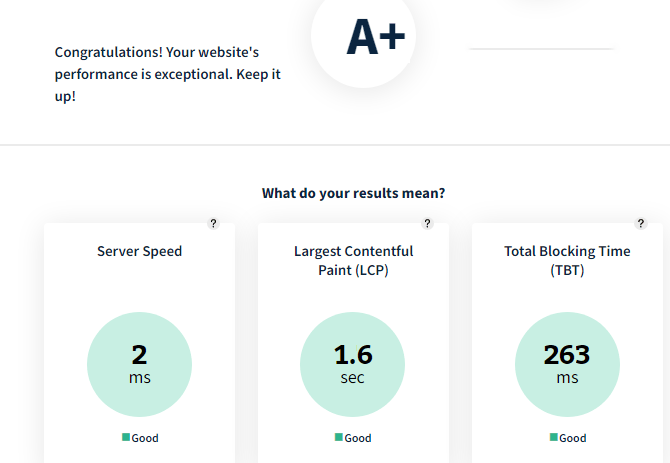 As can be observed from the above outcomes, the results are decent (Avg 228 ms) for a shared hosting account.
However, this site is just a test site with no traffic flow, so the performance evaluation method alone is not an ideal method to test the web server. We planned to test its effectiveness under peak web traffic. To test this, we used another tool called K6 (or LoadImpact). We used this to provide virtual traffic to our site and, subsequently, its website traffic increased approximately 50 simultaneously.
You can see the result in the graph below: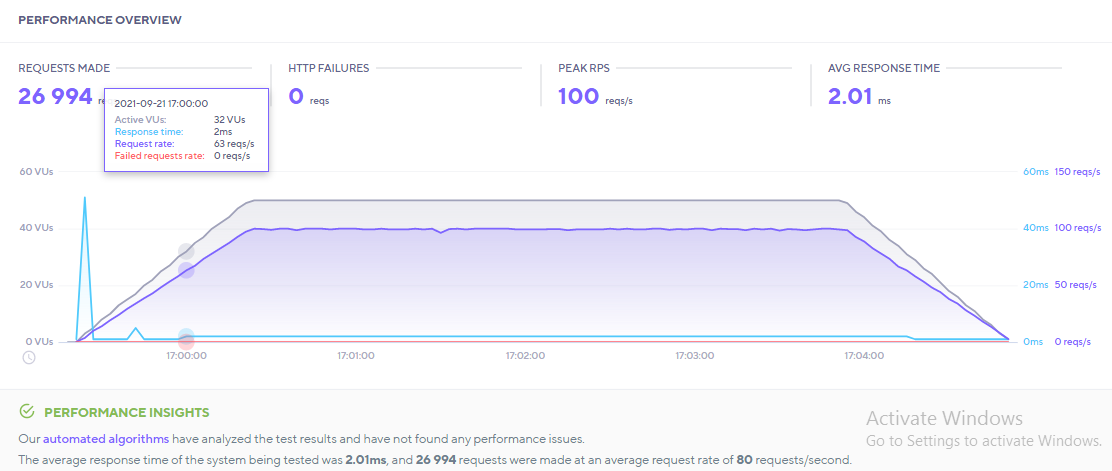 Our test website looks great all over the evaluation with a speedy response time of 201 milliseconds.
Good Uptime
Hostinger boasts an impressive uptime record, with the company reporting that its servers have been up and running for more than 99.99% of the time over the past year. That makes the web hosting provider a good choice for businesses and other organizations that rely on a stable online presence.
If you're looking for a web hosting company that guarantees your website will be up 24/7/365, Hostinger is the perfect choice.
A breakdown of the Hostinger's uptime throughout the last 12 months is as follows:
January 2021: 99.97%
February 2021: 99.99%
March 2021: 99.95%
April 2021: 99.99%
May 2021: 100%
June 2021: 99.99%
July 2021: 99.98%
August 2021: 99.99%
September 2021: 99.50%
October 2021: 99.99%
November 2021: 99.99%
December 2021: 100%
Free Website Transfer
If you're looking for a way to avoid some of the headaches and hassles of moving your website, Hostinger has got you covered. They offer a free transfer service, so if you want to keep your domain name with their company, they'll do the work for you at no charge.
Hostinger has made it easy for anyone to transfer their site from one host to another without the need for technical knowledge. If you are looking to switch providers, you can transfer your site without hassle! The company's Free Website Transfer offers a one-click solution that quickly and securely transfers your domain name, content, databases, email addresses, scripts, plugins, and more. You can transfer your site in just a few minutes, and all you need is Hostinger's free hosting account. Once the transfer is complete, you will have a new website on Hostinger's servers without having to pay for anything.
Go to the Migration Requests page in your hosting account and click the Add request button to get started on the process. Insert the required information into the WordPress tab.
Your prior hosting service's login credentials and your WordPress admin panel's URL are needed to migrate a site.
Then, click on Check connection to verify your credentials. Once the request is verified, click Add request, and Hostinger will migrate your WordPress site to their hosting for you.
Website Security
Every website needs to keep up with the latest technological advances to stay safe and reliable. However, there are a lot of new threats out there that can easily infiltrate your site includes malicious scripts that can steal the information of visitors or ransomware that ends up locking down your website until you pay a ransom.
Hostinger is committed to keeping the security of its users top-secret. The company offers protection against malicious scripts, spam, and viruses, as well as daily backups for all hosting accounts. Its advanced security modules (such as mod_security, PHP open_basedir protection, Suhosin PHP hardening, and others) enable you to achieve and deliver the highest level of security.
The market for buying and selling websites is increasingly competitive, which means that any company that wants to keep its site secure will need to take the necessary precautions. Not only does SSL encryption provide a layer of protection against malicious hackers, but it also helps Google rank your site higher by showing that your website is trustworthy and legitimate.
Hostinger provides some unique features to ensure that your site stays safe from hackers and DDoS attacks. In addition to that, Hostinger utilizes Cloudflare to ensure additional layers of security; it also utilizes Imunify360 and Bitninja to help reinforce the servers. It also employs Wanguard to block DDoS attacks from its systems.
Backups
Automatic backups are performed weekly and kept for 30 days for all plans. Plus, Business plan users get daily backups on top of that too.
Hostinger provides daily backups with most of their hosting plans – the only plans with weekly backups instead of daily backups are the Shared Single, Shared Premium, Single WordPress, WordPress Starter, VPS plans.
You can order daily backups through hPanel on either of the plans of your choice:
Click on Hosting→ Manage:
Click the Backups button in the Files section.
Then click Add Daily Backups.
VPS automated daily backup service can be turned on via the Servers → server in question → Snapshots & Backups page.
LiteSpeed Cache WordPress Plugin
LiteSpeed Cache plugin is a free open-source plugin for WordPress that caches your site on all levels, thereby boosting its performance. Hostinger has created this plugin to assist WordPress hosting customers in improving their site performance. With this plugin, Hostinger's servers are at least 10 times faster, which means that your website loads much more quickly without the need for any coding.
This plugin will allow you to have a speedy site with a fraction of the visitors required to run it. In addition, the plugin reduces load times for your website's pages and posts. It also allows you to add caching headers that will keep your pages from being changed without notice.
The plugin combines features of other caching plugins and offers JSON API compatibility, allowing other plugins to be engineered to work seamlessly with LiteSpeed Cache Plugin. Hostinger's experts have designed the plugin to automatically cache data generated by WordPress sites while simultaneously optimizing HTML pages generated by any server-side programming language.
You can also use this plugin to block adverts or prevent spam bots from sending back traffic to your site.
A test discovered that LiteSpeed is nearly 84X faster than a combination of Apache and w3totalcache. Not only Apache, but LiteSpeed can surpass Nginx, as well.
Free Cloudflare CDN
Many companies employ CDN (content delivery network) for their websites to improve the user experience. A CDN is a network of servers that provides access to content in different geographical regions so that users get the fastest, most reliable performance regardless of where they are located in the world.
Website developers always have to worry about things like server load. Websites with updated content in various corners of the globe are no exception to this rule. As many companies are forced into building multiple websites to satisfy regional or language requirements, it becomes more challenging to maintain an updated site in every corner of the world. However, this problem can be remedied by implementing a CDN and hosting company like Hostinger's Cloudflare CDN. When you use Hostinger's CDN option, you are offered the fastest speeds possible on their servers. This means that your website will load faster on mobile devices and desktop computers alike!
Free SSL Certificate
The SSL protocol (Secure Socket Layer) provides a secure method of transmitting data over the internet and protecting sensitive data like passwords and credit card numbers. It is based on making the data transmission private by encrypting it using a public and private key.
When you visit a website on your browser, such as Google, you see the HTTPS:// in the URL (the HTTPS stands for Secure Sockets Layer). This means that the website is using SSL encryption to protect your data, and it is safe to enter sensitive data into the website.
Hostinger is an Authorized Certificate Authority (ACA) that offers Free SSL Certificates with Every Shared Hosting Plan and can be used to secure your site with 256-bit encryption, thereby making the contents of your site inaccessible by hackers. This is excellent news for those who want to protect their website with increased security without having to pay for it.
Multiple Server Locations
With the increase in digital commerce and e-commerce, a server's location has become a key factor for businesses looking to host their site. This is because of the rise of cybercrime and data theft. Hostinger is an example of a company that has been impacted by this trend, with servers being targeted by malicious actors. In order to safeguard their customers from these attacks, Hostinger had to move their servers from potentially vulnerable EU locations to safer locations in non-EU locations.
In order to provide its customers with the best service possible, Hostinger uses state-of-the-art data center infrastructure located in Europe (the Netherlands, Lithuania, the United Kingdom), Asia (Singapore, India), North America (the USA), South America (Brazil). This ensures that Hostinger servers are always online and they never fail.
30-Day Money-Back Guarantee
Hostinger is an internationally recognized and trusted service provider and promises reliable and secure services. They provide their customers with an option to get their money back if they are not satisfied with the service they received or if they find another provider that offers a better quality of service at a cheaper price. They provide a 30-day money-back guarantee for all of their new customers, which means if you are not satisfied with their service within 30 days, you can get your money back. This is one of the most competitive guarantees on the market.
Website Builder
Hostinger's Zyro Website Builder is a new and easy way to design a website in minutes. You can have a custom site up and running with a few clicks. It is not free but instead a paid website builder. The intuitive interface and design of Hostinger zyro make it easy for beginners to set up their websites with ease.
There are 3 different plans and features that Zyro Website Builder offers. Those are Unleashed, eCommerce and eCommerce Plus. The Unleashed plan includes a Free domain for 1 year, Free email for 3 months and more. Additionally, they offer eCommerce and eCommerce Plus plans, including up to 2500 eCommerce products for sale on their online store, Shipping and tax management, Abandoned cart recovery and more. This fantastic website builder has hundreds of templates and layouts to choose from.
Zyro Website Builder Pricing:
Unleashed: $2.90/mo (69% off)
eCommerce: $8.90/mo (44% off)
eCommerce Plus: $15.90/mo (39% off)
Top-Notch Customer Support
Hostinger is the perfect choice for companies who are on a budget but still want top-notch customer service. Their customer support is the best around! If you are struggling with any issues related to hosting, which includes domains, Email, website hosting, etc., Hostinger Customer Support is the best place to go. They provide information and resources on how to use their hosting services for your company or personal project. Their efficient customer service department is available 24 hours a day, seven days a week, to answer your questions. Customers can contact them through Live Chat, Phone calls and Email. They offer customer support in multiple languages, including Lithuanian, Portuguese and Brazilian Portuguese, Indonesian and Malaysian, Spanish, Russian, Ukrainian, French, Arabic, Thai, Vietnamese and Chinese.
Hostinger provides affordable and quality hosting services that cover just about every type of hosting need you can think of. They understand that everyone has different needs, and that is why they have tailored each hosting package to meet everyone's needs. Hostinger offers many different types of hosting packages, such as Shared Web Hosting, Cloud Hosting, WordPress Hosting, cPanel Hosting, VPS Hosting, Minecraft Server Hosting, CyperPanel Hosting and Webhosting For Agencies. Shared Web Hosting is for personal use, and it can be used on a variety of devices such as desktop computers, tablets, and phones. This type of hosting is cost-effective and affordable for beginners. With their popular cloud platform, you can deal with all sorts of issues you might run into with WordPress.
Hostinger is offering the following hosting plans. Let's take a look at them.
Shared Web Hosting Starts At Only $1.99 Per Month
Shared web hosting is the most economical of all the options available for creating a website because it requires less work on behalf of the host company.
With an ever-changing online world, it's crucial to find a shared web hosting provider that meets your needs. Hostinger offers a list of different shared web hosting plans and their features to help you decide what type of plan is best for you and your company. The Hostinger Shared Web Hosting Plan is affordable for small to medium-size businesses. It offers a variety of basic packages with different amounts of disk space and monthly data transfer limits. The plans range from $1.39 per month to $3.99 per month, so there's something for every budget and need.
Hostinger offers three different shared hosting plans:
Single Shared Hosting-$1.99/mo
Premium Shared Hosting-$2.99/mo
Business Shared Hosting-$4.99/mo
Cloud Hosting Starts At Only $9.99 Per Month
Hostinger Cloud Hosting is using the cloudlinux with LVE containers and managed security to provide a cloud hosting service that is fast, reliable and easy to use. The platform's architecture was built with the customer in mind and offered various levels of control and protection over their data and applications. Though many providers offer this same service, they don't always have the same features and benefits. A few things that set Hostinger apart from its competitors are its cloud hosting plans and add-ons. Their cloud hosting plans comes with up to 300 GB SSD Storage, 12 GB RAM and 6 CPU Cores and can be hosted up to 300 Websites and much more. So, this powerful Cloud server can handle large files like multimedia and databases quickly. They offer three different cloud hosting plans with very competitive prices: Cloud Startup, Cloud Professional, and Cloud Enterprise. The plans range from $9.99 per month to $69.99 per month, so there's something for every budget and need.
Hostinger offers three different Cloud Hosting plans:
Cloud Startup -$9.99/mo
Cloud Professional -$18.99/mo
Cloud Enterprise -$69.99/mo
WordPress Hosting Starts At Only $1.99 Per Month
There are many hosting options for WordPress websites, but not all are good enough. If you're looking for a great and affordable WordPress hosting provider, Hostinger is the perfect solution for your needs. They offer exceptional WordPress hosting plans at affordable prices, and they offer many service options to cater to your needs.
You can create your own site, blog, online store, or community within minutes with WordPress hosting. You can use an easy drag-and-drop editor to upload images and text. The result is a beautiful design with no need for any coding knowledge!
Hostinger has WordPress-optimized hosting starting at only $1.99 monthly. Even at this price, it has all the essential features and resources required to get a website up and running fast. Their WordPress hosting plans come with up to 200 GB SSD Storage, 200000 Monthly Visits, Free SSL ($11.95 value) and Free Domain ($9.99 value) and can be hosted up to 300 Websites and much more.
Hostinger offers four different WordPress Hosting plans:
Single WordPress-$1.99/mo
WordPress Starter-$3.99/mo
Business WordPress-$6.99/mo
WordPress Pro-$11.99/mo
cPanel Hosting Starts At Only $2.59 Per Month
Hostinger's cPanel hosting is effective, simple to use, and includes all the tools you need to deal with your website properly. It's a running platform with many different attributes that can help you put up your website files, MySQL databases, data statistics, and all other website control factors.
cPanel hosting from the Hostinger website offers LiteSpeed Web Cache, which increases site loading speed dramatically, facilitates easy site management, and maximizes your online visibility.
With cPanel web hosting plans, you can count on CloudLinux to keep your system private and safe, Imunify360 to protect your site from security threats and attacks, and JetBackup to complete frequent backups of your site.
Their cPanel hosting plans come with up to 50 GB SSD Storage, 1 TB Bandwidth, Unlimited MySQL Databases, Unlimited FTP Users, One-Click Installer, Cloudflare DDoS Protection and can be hosted up to 100 Websites and much more.
Hostinger offers two different cPanel Hosting plans:
cPanel Hosting Silver-$2.59/mo
cPanel Hosting Gold1-$3.59/mo
VPS Hosting Starts At Only $3.95 Per Month
If you want a reliable and fast hosting service, you should look for good VPS (virtual private server) Hosting. Hostinger is one of the leading Virtual Private Server (VPS) Hosting providers. Hostinger offers the best VPS packages on the market, with full root access to your VPS and absolutely no contracts. This allows you to keep your services at any time without having to worry about an early termination fee. They'll never let you down with their dedicated servers. Their dedicated server comes with dedicated IPv4 & IPv6 IP addressing. Loaded with the latest Intel processor models, they provide TBs of SSD disk space and up to 250 GB of RAM per server. Hostinger VPS Hosting guarantees an excellent loading speed and user experience for successful online ventures at all times and anywhere. It has an easy-to-use control panel where you can manage your VPS from one place without any complications.
This type of Hosting is suited for people looking to have more power to customize their servers and those who need more space and bandwidth than what shared web hosting offers.
Hostinger VPS Hosting has everything you need for a successful site that can grow with your business with fast bandwidth, unlimited traffic, and powerful servers. You will not have to worry about managing your Hostinger VPS hosting account. All you need to do is log in to your control panel, and you can easily manage everything with just a few clicks.
The Hostinger VPS Hosting does not require any setup or maintenance fees, which allows their customers to spend less time worrying about their server and more time running their business.
Hostinger offers eight different VPS Hosting plans:
VPS 1-$3.95/mo
VPS 1-$8.95/mo
VPS 1-$12.95/mo
VPS 1-$15.95/mo
VPS 1-$23.95/mo
VPS 1-$38.99/mo
VPS 1-$57.99/mo
VPS 1-$77.99/mo
Minecraft Server Hosting Starts At Only $6.95 Per Month
Hostinger is one of the few great companies that provide a dedicated Minecraft environment with all the resources needed to create and manage your Minecraft server. When you buy a Minecraft hosting plan with Hostinger, you ordinarily instantly find it linked to one of several Multicraft servers. The hosting control panel lets you install plugins, mod packs, and more immediately for the Multicraft gaming control panel.
There is a 99.99% uptime SLA for cloud-based hosting and DDoS protection, which guarantees minimal interruptions in your game.
You can set up your server using the Game Panel application or set up the system manually with Ubuntu 18, CentOS 7, or Debian 9.
Hostinger offers seven different Minecraft Server Hosting plans:
Alex Plan-$6.95/mo
Villager Plan-$9.95/mo
Creeper Plan-$15.95/mo
Herobrine Plan-$23.95/mo
Enderman Plan-$29.95/mo
Evoker Plan-$57.99/mo
Wolf Plan-$77.99/mo
CyberPanel VPS Hosting Starts At Only $3.95 Per Month
Hostinger's CyberPanel LiteSpeed hosting plan allows you to complete tasks more quickly, more securely, and consider all these elements. It provides Let's Encrypt SSL certificates free of charge, and it supports email servers and everything else you'll need to set up. It has GIT webhooks feature to upload codes. Here you can keep a backup of your data in Google Drive, AWS S3, or the like. It also supports HTTP3 and QUIC for receiving your data.
Cyber panel hosting is recommended if you'd prefer unlimited access to domain hosting.
Eight categories of this package are available, and each one contains unique features. Cyber Panel VPS 2 has 2 GB RAM and 40GB SSD space, 2 TB Bandwidth, Weekly backups, which makes it one of the most popular selections in this category.
CyberPanel utilizes LiteSpeed to boost website speed based on WordPress, Joomla and Drupal.
Hostinger offers eight different CyberPanel VPS Hosting plans:
CyberPanel VPS-1-$3.95/mo
CyberPanel VPS-2-$8.95/mo
CyberPanel VPS-3-$12.95/mo
CyberPanel VPS-4-$15.95/mo
CyberPanel VPS-5-$23.95/mo
CyberPanel VPS-6-$38.99/mo
CyberPanel VPS-7-$57.99/mo
CyberPanel VPS-8-$77.99/mo
Webhosting For Agencies Starts At Only $3.99 Per Month
Establishing your own hosting business is not difficult. If you use Hostinger's Web Hosting for Agencies account to provide your customers with all of their hosting needs, you can be the "Hostinger" of your customer's website. You'll use the agency panel in the Hostinger control panel to name your company, create a logo for it, and even upload a video that introduces potential customers to what you offer. Resellers have access to bonuses such as free domain registration, website builder, and monthly discounts on hosting packages. With Hostinger's cutting-edge Access management features, you can rapidly access your clients' accounts. You'll gain access to a wide array of hosting products for your customers. Depending on their needs, they can choose to use the shared, reseller, or dedicated server. Resellers and all of their clients will receive exclusive support with all plans for their agency.
Their "Web Hosting for Agencies" plan comes with up to 300 GB SSD Storage, 12 GB RAM, 6 CPU Cores, Daily Backups ($11.40 value), Unlimited Bandwidths, Unlimited Databases, Dedicated IP Address and can be hosted up to 300 Websites and much more amazing features.
Hostinger offers three different Agency Hosting plans:
Agency Starter-$3.99/mo
Agency Pro-$18.99/mo
Agency Pro+-$69.99/mo
Email Hosting Starts At Only $3.99 Per Month
Email hosting is a service provider that is independent of website web hosting. While in the process of setup, your organization will be able to operate without a hitch.
Hostinger is a leading email hosting service provider globally, with servers in more than 10 countries with thousands of IP addresses. The company provides Email Hosting Services for personal and business customers at an affordable price.
The company has been growing month-over-month. All that success comes from their dedication to offer their customers an experience that is second to none when it comes to customer service and innovation.
Hostinger offers two different email hosting plans to meet the needs of customers of all sizes and budgets, business and enterprise. Their Email Hosting services include 30 GB of Email storage, 10 Email Aliases, Antivirus checks, Multi-device Support, Advanced anti-spam, iOS and Android apps, and more.
Hostinger offers two different Email Hosting plans:
Business Email-$0.99/mo
Enterprise Email-$2.49/mo
Compare With Best 5 Web Hosting Services
| | | | | | | |
| --- | --- | --- | --- | --- | --- | --- |
| Web Host | Price Per Month | Website | Traffic (mo.) | Disk Space | Free Domain | 24/7 Support |
| SiteGround | $0.99 | 1 | 10, 000 Visits/mo. | 10 GB | ✅ | ✅ |
| Bluehost | $2.75 | 1 | Unmetered | Unmetered | ✅ | ✅ |
| HostGator | $2.75 | 1 | Unmetered | Unmetered | ✅ | ✅ |
| DreamHost | $2.59 | 1 | Unmetered | Unmetered | ✅ | ✅ |
| Hostinger | $1.39 | 1 | 10, 000 Visits/mo. | 30 GB SSD | ✅ | ✅ |
Frequently Asked Questions (FAQs)
Is Hostinger Right for my Business?
Yes, Hostinger will migrate your website for free to your account. After obtaining Hostinger, go to the Migration Requests page and click the Add request button to start the process.
Does Hostinger offer a free migration service?
Yes, Hostinger will migrate your website for free to your account. After obtaining Hostinger, go to the Migration Requests page and click the Add request button to start the process.
How many customers does hosting have?
Hostinger currently have 29 million+ customer and counting!
Does Hostinger offer cPanel?
Hostinger does not provide the standard cPanel to manage domain and hosting services. Instead, it has its own control panel, known as hpanel.
What servers does Hostinger use?
Their servers are run on CloudLinux – the leading Operating System for hosting providers.
How do I set up a free website with Hostinger?
Click on the Hostinger free hosting plan to get your free hosting account. You will be guided by creating a free web hosting plan through an intuitive and simple process.
The cost of hosting is one of the most important factors to consider when choosing a web host. Hostinger's standard plan starts at $1.99/month, which is more than affordable for anyone with basic hosting needs. They also offer a wide variety of different hosting plans and prices, including plans that start at free!
They offer up to 200 GB SSD Storage, ~100000 Visits Monthly, Free Email, Free SSL, Free Domain, Unlimited Bandwidth, Managed WordPress, WordPress Acceleration, Unlimited Databases, Daily Backups, Free CDN, 100 websites hosting limits in your for business shared hosting just for $4.99/ month, which is a big plus for any website owner. Their dedicated customer services are available 24/7/365, so if you have any questions, don't hesitate to ask them!
We recommend Hostinger to beginners who want to create and launch a website without spending excessive money. Hostinger's inexpensive shared hosting plans deliver high-quality performance at reasonable prices along with an optimum user-friendly control panel.
Hostinger Hosting Review
Premium Shared Hosting Price Starts at $1.99/mo
SAVE 80%
PROS
Solid uptime, super-fast Speed
1-click WordPress auto-installer
Free Domain and Free SSL
Multilingual customer support
30-day money-back guarantee
CONS
The expensive plan has daily backups, but the cheaper plans do not.
Add your review
|
Read reviews and comments