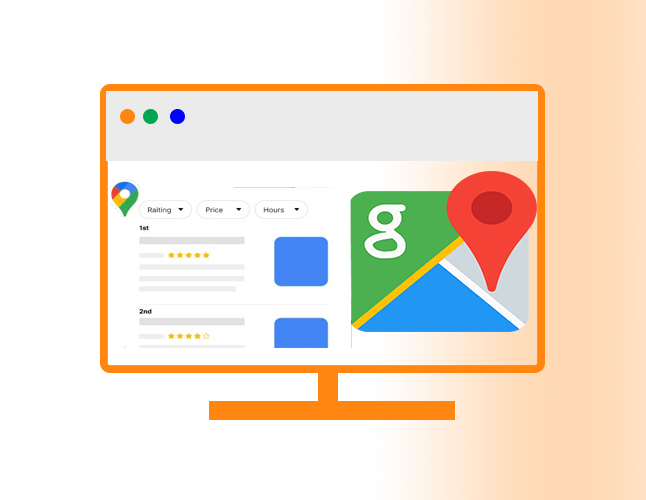 What is Google Maps?
Google Maps is a navigation tool and online mapping service developed by Google. It provides satellite imagery, street maps, 360° panoramic views of streets, real-time traffic conditions, and route planning for traveling by foot, car, bicycle, and air. Google Maps also features an "Explore" tab that helps you discover restaurants, stores, and other businesses near your current location. To rank higher in Google Maps search results, there are several key steps to take such as claiming your business listing on Google My Business (GMB), optimizing with keywords, and adding relevant content to your GMB profile. Additionally, reviews are a huge factor when it comes to ranking higher in local search engine result pages (SERPs). Encouraging customers to leave reviews can help your business stand out against competitors on the local SERPs. Lastly, maintaining accurate information across other third-party sites can improve visibility in local searches too. Making sure you have consistent NAP (Name/Address/Phone) information listed on multiple platforms will ensure accuracy for potential customers looking for businesses like yours.
How does Google Maps work?
Google Maps works in two ways: it reads user data to generate maps and it uses algorithms to create map content. To read user data, Google Maps uses Global Positioning System (GPS) receivers and sensors that can detect the location of a user's device. These signals are then used by Google Maps to calculate the exact position of the device and consequently provide navigation information to the user.
Apart from reading user data, Google Maps also utilizes algorithms for generating map content. This includes information such as road networks, businesses, buildings, points of interest, and more. The algorithms analyze various sets of geographic data including street view images, satellite imagery, and aerial photographs to process this information into useful maps that will be presented to users. In addition, Google Maps also considers factors such as population density when creating its maps to accurately display important landmarks or services according to their relevance within certain areas.
What are some of the most common mistakes made when ranking higher in Google Maps?
Failing to optimize your NAP (name, address, and phone) is one of the most common mistakes made when attempting to rank higher in Google Maps. Ensuring that this information is consistent across all websites and directories related to your business is essential for optimizing your ranking. Additionally, failing to include local keywords throughout your website can hurt your ranking. It's important to make sure any content you post includes location-specific words or phrases that will help inform search engines about where your business is located.
Furthermore, not setting up social media profiles with links back to the website or using outdated images or videos could be another mistake when trying to rank higher in Google Maps. Having updated images and videos as well as active social media accounts helps show potential customers that you are an active business that values its online presence. Lastly, not taking advantage of other relevant local listings such as Yelp, Yellow Pages and Angie's List can also hinder attempts at ranking higher in Google Maps. Ensuring these platforms are up-to-date and actively managed can create a more complete picture of the business for search engine algorithms which can positively affect rankings. Taking these 10 steps will help make sure that you rank higher in Google Maps search results over time.
10 Key Steps to Optimize your SEO Results with Google Maps
Step 1: Claim and Verify Your Business Listing
Claiming and verifying your business listing is the first step to ranking higher in Google Maps. To claim or verify a business listing, it is important to ensure that you have an active Google My Business account. Once your account has been created, you can use either the desktop browser or mobile app version of Google My Business to add your business information such as an address, hours of operation, contact details, and more. You may also need to provide additional documents or verifications depending on the size of the business.
Once all the information has been added and verified, you will receive a notification that your listing is now live and searchable on Google Maps. Additionally, you should also start receiving notifications for reviews from customers who have searched for your business online. This will help improve visibility for both new and existing customers by increasing engagement with reviews from others who have experienced what your business offers firsthand.
Step 2: Optimize Your Profile Information
Once you've created your Google My Business listing, it's time to optimize your profile information. To do this, you'll need to fill out all the necessary fields accurately and completely. This includes adding a detailed description of your business that incorporates relevant keywords, uploading high-quality photos of your business and its services or products, and setting up categories that accurately describe what kind of business you are. Additionally, it's essential to make sure your name address and phone number (NAP) are consistent across all platforms like directories and other websites where customers can find information about your business. Lastly, make sure to add posts with updates or promotions regularly to keep customers engaged.
Step 3: Collect Client Reviews
Client reviews are an essential part of getting your business to rank higher in Google Maps. Collecting client reviews is a simple process that can be done through email, text messages, or even on-site tablets.
When requesting reviews from clients, it's important to make the process easy for them. Provide your clients with a link to leave their review on Google My Business as well as other platforms such as Yelp or TripAdvisor if applicable. For clients who aren't comfortable providing public feedback, consider setting up an automated survey platform like SurveyMonkey or Typeform and sending out emails asking for input after services have been rendered.
It's also important to follow up with any negative feedback you may receive to provide customers with the best possible experience. Responding quickly and courteously demonstrates that you value their opinion and are willing to make improvements based on their feedback. Providing quality customer service is key when it comes to collecting positive reviews – something which will ultimately help you reach your goal of ranking higher in Google Maps!
Step 4: Obtain Quality Backlinks
One of the most important steps in ranking higher in Google Maps out of the 10 Key Steps to Optimize your SEO Results with Google Maps is to obtain quality backlinks. This means getting other websites to link back to your website, which signals to search engines that you have good content and should be ranked higher. Quality backlinks are essential as they provide credibility with search engines and can help increase organic traffic. The best way to get quality backlinks is by creating compelling content that other sites want to link to, such as informative blog articles or videos. Additionally, engaging with influencers on social media or engaging in forums related to your niche can also help you get quality backlinks by building relationships with people who may be interested in linking back to your content. Lastly, you can reach out directly to relevant websites that may be willing to link your content if they find it interesting and valuable for their readers.
Step 5: Utilize Local Keywords
Local keywords are essential in optimizing content for Google Maps; they tell search engines the geographical region to which your business is relevant. For example, if you're based in Phoenix, Arizona, use "Phoenix" or "Arizona" throughout your site. Additionally, local keywords should be used in titles and meta descriptions where possible as this helps to boost authority. Don't just stop at the city name – include surrounding areas like "East Valley" or county names such as "Maricopa County" to maximize relevance. Researching potential local keywords through keyword research tools can help identify further opportunities for optimization. Incorporating these terms into content and anchor text of internal links can also prove important for local SEO and Google Maps visibility. Last but not least, it's vital to ensure address information and other contact details are consistent across all webpages using the same format – e.g., 123 Main Street instead of 123 Main St., Phoenix AZ 85007; otherwise search engines may have difficulty recognizing it as a valid location.
Step 6: Monitor Your Performance & Make Adjustments
Once you have optimized your listing and made any changes, the next step is to monitor your performance. This means tracking how effective your efforts are in improving rankings in search results and driving more traffic to your business. You should use analytics tools such as Google Analytics, Moz Local, or BrightLocal to track your performance over time. Analyzing these metrics can help you understand what's working and what isn't so that you can make adjustments accordingly.
It's important to keep an eye on any algorithm changes that may affect how customers find businesses on Google Maps. Keeping tabs on industry news will help you stay ahead of the curve and anticipate potential issues before they occur. Also, be sure to check back with any competitors who may be optimizing their listings as well – keeping an eye out for new content or keywords they may be targeting can give you a better understanding of what strategies others are using successfully. Finally, don't forget to regularly monitor the quality of reviews from customers – if there are too many negative reviews this could hurt your ranking in search results even if all other factors remain the same.
Step 7: Utilize AdWords
AdWords can be an incredibly powerful tool out of the 10 Key Steps to Optimize your SEO Results with Google Maps to help boost your ranking. This is done by creating keyword-targeted campaigns that drive traffic to your website, improving your overall visibility and reach. With AdWords, you can also use remarketing tools that target users who have already interacted with your website or brand before, helping them remember and take action on what they previously looked at or considered. You can also create display ads that appear on search engine results pages, giving you more visibility and credibility in the eyes of potential customers. Finally, AdWords provides detailed metrics so you can track progress over time and make necessary changes to optimize performance. Utilizing these features is key to making sure you get the most out of your Google Maps listing and rise through the rankings.
Step 8: Post Photos & Videos
Posting photos and videos to your Google My Business page is a great way to increase your ranking in the local 3-pack. Photos and videos are one of the best ways to showcase your business, products, services, or industry knowledge. When it comes to images, you can upload logos, cover photos, product images, team members' photos, and more. Videos also offer an effective means of communicating with customers and prospects that text cannot provide. You can post promotional videos about your business or customer testimonials from past clients who are willing to share their experience working with you. Additionally, adding video content can help you stand out among competitors in the search results – so be sure to embrace this opportunity!
Step 9: Engage with Customers on Social Media
It is important to engage customers on social media as this helps build relationships with them. This also allows businesses to better understand customer needs, respond to inquiries and feedback, and drive traffic back to the website or store location. When engaging with customers on social media, businesses should ensure that their responses are timely and helpful. By consistently providing value through content such as tips or advice, businesses can increase visibility online and attract more engagement from followers. Additionally, creating content relevant to a local audience can help boost local SEO rankings in Google Maps by increasing the number of reviews and mentions online about the business. Finally, actively participating in conversations related to one's industry or target audience is a great way for businesses to connect with potential customers who may not be aware of their offerings. In summary, regularly engaging with customers on social media platforms is essential for building relationships and growing one's presence in local markets.
Step 10: Submit Updates to Google My Business
Once you've finished making changes to your Google My Business listing, it's time to submit those updates for review. This process can take a few days and is necessary for Google to update your listing in Local Search Results. To make sure your edits are approved quickly, check over the information before you submit it to be sure everything is accurate and up-to-date.
To submit an update, log into the Google My Business dashboard and find the 'Info' tab located on the left menu bar. Choose the section that has been updated and click 'Edit.' Once all desired edits have been made, select 'Apply' to save any changes or selections that were made. Once all of the desired changes have been applied, go back to the main page of your business profile and select 'Submit' at the top right corner of your screen to send off all of your updates for review.
Keep in mind that after submitting any changes, you may receive an email from Google asking for additional information about certain edits or inquiring as to why a change needs to be made—it's important not only to fill out these requests but also do so promptly as this will help ensure that significant delays don't occur while waiting on approval from Google My Business.
Conclusion: Maximize Visibility in Google Maps
It is important to optimize your Google My Business listing with as much relevant information as possible. Include a description, business hours, phone number, website link, and images. Keep your NAP (name, address, and phone number) consistent across all of your online business listings. Additionally, ensure that you select the relevant categories for your business to capture qualified leads.
Having quality reviews on sites like Yelp or Google will also help boost visibility in Maps. This is especially true if those reviews include keywords related to the type of services or products that you offer. Invite customers to leave an honest review (where allowed) and reply when necessary so that potential customers can see how well you manage customer service issues.
Finally, local SEO strategies will help draw attention from both search engines and local users alike which can result in higher rankings on Maps as well. Focus on creating content targeted toward local users by including location mentions and utilizing localized keywords in titles and descriptions of blog posts or other content pieces such as videos or podcasts. Additionally, look into optimizing Meta tags for each page you create to ensure that they are accurately reflecting the topic at hand along with any location-specific information included within them for added relevance when it comes to local searches in Google Maps results.