A2 Hosting Review 2023
In 2001, CEO Bryan Muthig embarked on a journey to start his own business. With a dream in mind and a vision of providing reliable hosting services, he founded A2 Hosting from a two-room office in Ann Arbor, Michigan. This small beginning would soon grow into something much bigger, as the company quickly gained traction and became one of the leading providers of web hosting solutions.
Despite humble beginnings, Bryan's dedication and commitment to excellence set the foundation for A2 Hosting's success. He worked tirelessly to provide customers with top-notch service and support while staying ahead of the curve when it came to offering innovative solutions. Today, nearly two decades later, A2 Hosting has grown into an industry leader that serves thousands of customers worldwide.
The company offers a variety of hosting plans, including shared hosting, VPS hosting, dedicated servers, and reseller hosting. A2 Hosting is known for its fast servers and reliable uptime, with an average uptime of 99.99% over the past year.
One of the standout features of A2 Hosting is their Turbo Server option, which promises up to 20x faster page loads compared to standard hosting plans. This can be especially beneficial for websites that experience high traffic or have resource-intensive applications. Additionally, A2 Hosting uses SSD storage on all their servers for faster performance.
A2 Hosting also offers a wide range of developer-friendly tools and features such as SSH access, staging environments, Git integration, and support for multiple programming languages like PHP and Python. Their customer support team is available 24/7 through live chat, phone support, or email tickets to offer assistance with any issues that may arise. Overall, A2 Hosting is a solid choice for those looking for reliable web hosting with fast speeds and developer-friendly features.
Pros
A2 Hosting offers robust hosting packages, especially for WordPress sites.
Their customer service is excellent and readily available.
They have an impressive uptime record and fast load times.
A2 Hosting has a good money-back refund plan and four server locations to choose from.
The company also provides free site migration services and robust security features.
Cons
There are no Windows server options available with A2 Hosting.
Compared to other hosting services, their pricing may be relatively expensive, especially upon renewal.
No free website builder is offered by the company.
4. With their base plan, only one website can be hosted at a time.
A free domain name is not included in any of their plans
A2 Hosting Review At A Glance
| | |
| --- | --- |
| Performance Grade | A |
| Free Website Migration | ✔ |
| Uptime | 99.99% |
| Average Load Time | 142ms |
| Free Domain | No |
| Free SSL | ✔ |
| 1-click WordPress Install | ✔ |
| Money-Back guarantee | 30 days |
A2 Hosting can help you set up your e-commerce website with just one click. You can choose from popular apps like WooCommerce, OpenCart, Adobe Commerce PrestaShop, and AbanteCart easily. You can also easily one-click install WordPress, Drupal, and Joomla through the Softaculous app.
If you need to move your website from your old host, A2 Hosting can migrate one website or your entire cPanel account for free.
Although A2 Hosting doesn't have a built-in CDN, you can easily enable CloudFlare, which is already integrated.
A2 Hosting's control panel is user-friendly and functional, making it easy to set up a new website. However, the design looks outdated. Fortunately, there is a solution called WHMCS that can help with this.
A2 Hosting is a web hosting service provider that promises top-notch performance for your website. They understand the importance of page speed load time, response time, and server uptime to your website's success. With A2 Hosting's commitment to using the latest technology and infrastructure, they aim to deliver a seamless experience for their customers.
1. Page speed/load time
If you're looking for a web host that offers lightning-fast loading speeds, A2 Hosting is the perfect fit. Their WordPress hosting plan is optimized to deliver faster page loading times than their normal shared hosting package. With A2 Hosting's claim of being 6X faster than traditional hosting, you can rest assured that your website will load quickly and efficiently.
In addition to speedy site loading times, A2 Hosting also performed exceptionally well in our tests. Out of 15 competitors, they had the second-fastest average loading time at just 1.30 seconds! This impressive result shows that A2 Hosting is one of the most reliable and fastest web hosts on the market today.
One thing we especially appreciated about A2 Hosting was their stable servers with almost no downtime.
In today's fast-paced digital world, website speed is critical. Slow loading speeds can lead to increased bounce rates, decreased user engagement, and ultimately lost revenue. As a result, it's essential to test the loading times of your website regularly. In this article, we will measure the speed of the A2 Hosting server by testing how long it takes for a simple WordPress blog to load.
To ensure accuracy, we will use four online tools – Pingdom, GTmetrix, Bitcatcha, and K6 – to test the server's loading speeds of A2 Hosting. These tools will provide us with an in-depth analysis of our website's performance metrics such as page size, request count, and load time. By using multiple tools, we can obtain a comprehensive understanding of server's performance.
1. Pingdom

2. GTmetrix
3. Bitcatcha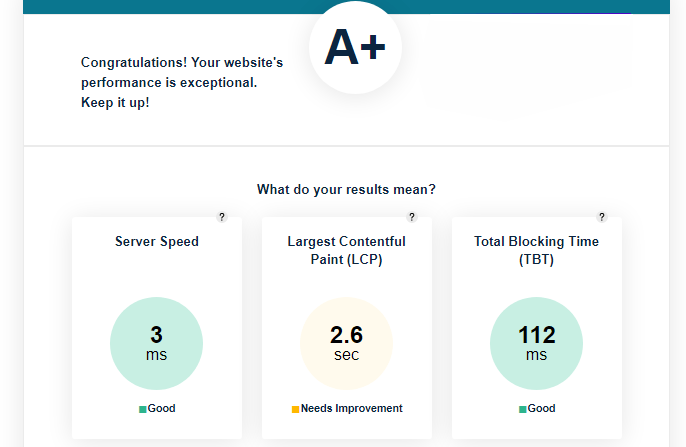 4. K6
The average load time across all four tools was an impressive 142ms!
2. Server Uptime
In the world of web hosting, uptime is king. It's what separates successful websites from those that struggle to stay afloat. That's why we put A2 Hosting through our rigorous tests for 2022-23, and we're happy to report that it has improved significantly since last year. Over the past twelve months, A2 Hosting has maintained an impressive uptime rate of 99.99%, well above the industry standard of 99.9%.
Last 12-month average uptime (June 2022 to May 2023):
| | |
| --- | --- |
| May-23 | 100% |
| Apr-23 | 99.98% |
| Mar-23 | 99.99% |
| Feb-23 | 100% |
| Jan-23 | 100% |
| Dec-22 | 100% |
| Nov-22 | 100% |
| Oct-22 | 99.98% |
| Sep-22 | 100% |
| Aug-22 | 99.98% |
| Jul-22 | 99.99% |
| Jun-22 | 99.97% |
| Average | 99.99% |
Their average Uptime is 99.99% over the last 12 months means almost 53 minutes of downtime.
A2 Hosting is a reliable web hosting provider that offers many essential features including RAID-10 SSD storage, Turbo Servers, A2 Optimized Plugin Automatic Server Backups, 1-Click WordPress Install, Plenty of Security Features, Free SSL certificate, Free Cloudflare CDN, Free site migration and A2 SiteBuilder to ensure your website runs smoothly and securely.
1. Storage and Bandwidth Limits
When it comes to web hosting, storage, and bandwidth limits are important considerations. A2 Hosting takes care of both with their shared plans, offering unlimited RAID-10 SSD storage on all plans except for the base plan, which comes with 100GB of storage. This means you won't have to worry about running out of space for your website content or files.
But that's not all – A2 Hosting's two Turbo plans take things a step further by offering NVMe storage. This type of storage boasts faster loading times than traditional SSDs, making it ideal for websites that require high performance and speed. With unlimited bandwidth on all plans, you can also rest assured that your website traffic won't be limited or restricted in any way.
Whether you're a blogger, business owner, or developer, having access to ample storage and bandwidth is crucial for maintaining an effective online presence.
2. Turbo Servers
A2 Hosting's Turbo Servers feature screams their tagline of being up to 20x faster. But there is no secret sauce behind this claim, and it is unlikely that your website will be that much faster. However, A2 has harnessed the power of LiteSpeed, a new web server technology that is significantly faster than Apache and allows for effective server-level caching. While other hosts are simply listing LiteSpeed as one of their features, A2 has built an entire brand around it.
LiteSpeed technology is quickly replacing Apache because it provides a more efficient way to serve web pages and handle traffic. It also allows for more effective caching at the server level, which can greatly boost website speeds. Hostinger, GreenGeeks, and InterServer are other hosting companies that offer LiteSpeed technology but they do not focus on it like A2 does.
3. The A2 Optimized Plugin
A2 Optimized plugin is a nifty tool that promises to deliver 6x faster page loads, which is quite an impressive feat. But how does it work? Essentially, the plugin brings together various other plugins and optimizes them for performance. This means you don't have to worry about configuring multiple plugins yourself – A2 takes care of everything.
One of the great things about A2 Optimized is that it comes with a pre-configured WordPress installation. This includes popular plugins like Jetpack and W3 Total Cache, which are essential for improving your site's speed and security. By bundling these tools together, A2 makes it easy for users to get started with WordPress without having to spend hours setting everything up themselves.
4. Automatic Server Backups
As a responsible adult, you already understand the importance of backups. However, not all backups are created equal and it's crucial to determine which ones are relevant to you. With A2 plans, you can utilize the cPanel management panel to perform full on-demand account backups. Additionally, Softaculous enables you to make on-demand backups of your CMS whether it's WordPress or another.
Despite these options being available, scheduling automatic backups is an option that's missing from basic plans. It's easy to forget to run them yourself or just be too lazy to do so. This feature is only included in the more advanced plans offered by A2 Hosting but it makes life much easier for website owners who don't want to worry about manual backup procedures.
Automatic server backups allow website owners peace of mind knowing their data is safe and secure without having to take any extra steps themselves.
5. 1-Click WordPress Install
E-commerce website creation can be a daunting task, especially if you don't have the technical knowledge. However, A2 Hosting makes it easy with its 1-click WordPress install feature. This means you can set up your e-commerce website quickly and without any coding skills. The one-click feature is available for popular apps like WooCommerce, OpenCart, Adobe Commerce PrestaShop, and AbanteCart.
With A2 Hosting's one-click install feature, you no longer need to spend hours installing WordPress manually or dealing with complicated installation processes. You can also easily manage your website using the Softaculous app that lets you quickly and easily install popular CMS platforms such as Drupal and Joomla with just a single click.
6. Security Features
In today's increasingly digital world, the security of your website is more important than ever. With an average of 30,000 plus sites being hacked every day globally, it's crucial to take proactive measures to protect your online assets. That's where A2 Hosting comes in. Their Perpetual Security measures are designed to help prevent you from becoming the next victim.
One of the key security features included with your A2 Hosting account is free HackScan Protection. This powerful tool helps to block hacks before they can do any damage to your site. In addition, their dual firewall and brute force defense systems work tirelessly behind the scenes to keep your site secure from threats both known and unknown. And if that wasn't enough, their KernelCare rebootless kernel updates provide ongoing protection against new vulnerabilities as they arise.
Furthermore, A2 Hosting offers reinforced distributed denial-of-service (DDoS) protection which improves the likelihood that your site will remain online even during sophisticated DDoS attacks.
7. Free SSL certificate
A2 Hosting offers free SSL certification as part of its hosting package. With this feature, you can be assured that all communication between your website and its visitors will be encrypted and secure.
In addition to free SSL certification, A2 hosting also provides 24/7 malware scanning and monitoring. This feature ensures that any attempts at hacking or malware attacks on your site are detected and prevented before they can cause any harm. Having this level of protection gives you peace of mind knowing that A2 has got you covered even when you're asleep at night.
Not every hosting service provider offers the same level of protection as A2 hosting does.
8. Free Cloudflare CDN
A2 Hosting is a web hosting provider that strives to offer its clients the latest speed features. One of these features includes a free Cloudflare CDN for any hosting package you choose. With this added tool, your website can load faster and perform better than ever before. The Cloudflare CDN works by distributing your website's content across various servers worldwide, ensuring that users from all over the world have quick access to your site.
9. Carbon-neutral hosting
A2 Hosting also supports carbon-neutral hosting. As our world continues to evolve and become more environmentally conscious, businesses need to do their part in reducing their carbon footprint. A2 Hosting has taken on this responsibility by purchasing carbon offsets for all of its servers. This means when you host your website with A2, you can be assured that you're not contributing to harmful emissions in the environment.
10. Free site migration
Are you tired of your current web hosting provider? Are they not providing the services you need for your website to succeed? Then A2 Hosting might be the solution for you. With their free site migration service, they make it easy for you to switch from your previous web host with no extra fees.
A2 Hosting understands that migrating a website can be a daunting task, especially if you have little experience in doing so. That's why they offer a free tool that helps streamline the process and ensures that everything is moved over seamlessly. The team at A2 Hosting will also assist with troubleshooting any issues that may arise during the migration process.
11. A2 SiteBuilder
A2 Hosting offers a website builder called A2 SiteBuilder that provides users with professional templates to build their websites quickly. This site builder is not free, but the investment is worth it for those who want to create a high-quality website that represents their brand effectively. A2 SiteBuilder provides an easy-to-use platform where users can easily drag and drop various elements onto their website, including text boxes, images, videos, and social media icons.
The site builder also has built-in features such as Google Maps integration and contact forms to help businesses connect with their customers more efficiently. Additionally, A2 SiteBuilder includes mobile responsiveness to ensure that your website looks great on any device.
In today's fast-paced digital world, having a reliable and efficient support system is crucial for businesses to stay competitive. One of the most valuable features that any online business can offer its customers is 24/7 live chat, phone, and email. This feature ensures that customers can receive help whenever they need it, regardless of time zones or geographical location.
A2 Hosting understands the importance of providing exceptional customer service, which is why they have dedicated specialists standing by ready to walk you through any troubleshooting issues. They understand that technical difficulties can arise at any time, causing frustration and inconvenience for website owners and their clients. With A2 Hosting's 24/7 live chat and support feature, you can rest assured knowing that there will always be someone available to assist you in resolving any issues promptly.
In addition to its knowledgeable staff, A2 Hosting also utilizes cutting-edge technology to provide seamless communication with its customers.
When it comes to web hosting, many people assume that the cheapest option is always the best one. However, A2 Hosting proves that affordable doesn't necessarily mean cheap. With prices starting at just $2.99 per month, A2 offers a range of hosting plans that cater to different needs and budgets.
It's important to note that while A2 may not be the cheapest host around, its pricing is always affordable. If you sign up for longer periods, you can enjoy even better rates. For those who require more advanced options like LiteSpeed-powered Turbo plans, the prices are understandably higher but still competitive compared to other hosts in the industry.
A2 Hosting is a web hosting company that has quickly become a household name for those who are looking for reliable and affordable hosting solutions. One of the most attractive features of A2 Hosting is its industry-standard 30-day money-back guarantee. This means if you're not satisfied with their services within the first 30 days, you can request a full refund without any questions asked.
But what sets A2 Hosting apart from other hosting providers is its anytime pro-rata refund policy. This means even after the initial 30 days are over, you can still ask for a refund and get reimbursed for the remaining period of your contract. Whether it's two months or three months into your contract, you'll be refunded for the unused portion of your plan. This is certainly an assurance of quality service that one does not come across often in this industry.
Payment terms are also flexible with A2 Hosting as you have the option of choosing between monthly, yearly, bi-yearly, or tri-yearly payment cycles. This gives clients flexibility in choosing how often they would like to pay for their hosting services depending on their budget and needs.
A2 Hosting has different prices for its hosting services.
Shared hosting costs between $2.99 and $14.99.
Managed VPS hosting costs between $39.99 and $59.99.
Managed Dedicated hosting costs between $155.99 and $185.99.
Turbo reseller hosting costs between $22.99 and $49.99.
Frequently Asked Questions (FAQs)
-How does A2 Hosting compare to other hosting providers?
One of the most notable things about A2 Hosting is its commitment to speed. Their SwiftServer platform boasts up to 20 times faster page loads compared to traditional hosting providers, which is a significant advantage for website owners looking to provide a seamless user experience. Additionally, A2 Hosting offers free SSDs (Solid State Drives) with all of their plans, which allows for even faster data access and transfer speeds.
A2 Hosting is a company that provides web hosting services. They have been in business since 2001 and are committed to giving our customers the best hosting experience. Their services include shared hosting, VPS hosting, dedicated servers, reseller hosting, WordPress hosting, and more. Their servers use the latest technology to keep your website running smoothly. We also offer 24/7 customer support to help you quickly. With A2 Hosting, your website will always be up and running.
– What are the different types of web hosting plans offered by A2 Hosting?
A2 Hosting has four web hosting plans: Shared, Dedicated, VPS, and Reseller. Shared hosting is the cheapest and good for small websites. You share resources with other websites on the same server. Dedicated hosting gives you full control over your server and is ideal for larger sites with high traffic. VPS hosting gives you a virtual slice of a dedicated server and is a good middle ground between shared and dedicated hosting. Reseller hosting is for those who want to offer their web hosting services to others.
– How reliable is A2 Hosting's uptime performance?
A2 Hosting's uptime performance is highly reliable. They guarantee an uptime of 99.9%, which is one of the highest in the industry. This means your website will be available to visitors nearly all of the time, with only brief periods of downtime for maintenance or other necessary tasks.
– Does A2 Hosting offer a money-back guarantee?
Yes, A2 Hosting offers a 30-day money-back guarantee. This means customers can receive a full refund of their hosting costs if they are not satisfied with the service within 30 days of purchase. Additionally, A2 Hosting also offers a pro-rata refund policy for customers who cancel after the initial 30 days. This policy ensures that customers will only be charged for the amount of time they used the service and will receive a refund for any unused portion of their hosting plan.
– What security measures does A2 Hosting have in place to protect my website?
A2 Hosting takes website safety very seriously. They offer many ways to protect your site. All their hosting plans include free HackScan Protection. This watches the server for any bad activity. They also give a free SSL certificate with each plan. This makes sure your data is safe when it's sent between your server and the user's browser. A2 Hosting also offers KernelCare Rebootless Security Patches. These patches are put on automatically. You don't need to restart the server, so your site won't go down. A2 Hosting also makes sure that all their servers use safe protocols like SFTP and SSH. This makes sure only the right people can get to your files.
– Can I migrate my existing website to A2 Hosting?
Yes, A2 Hosting can help you move your website to its servers. They offer a free site transfer for up to 30 cPanel accounts. They also have helpful resources like tutorials and step-by-step instructions in their Knowledgebase. You can contact their 24/7 customer support if you need help during the process.
– What level of customer support does A2 Hosting provide?
A2 Hosting has great customer support. We are available 24/7/365 through live chat, phone, and email. Our experienced technical experts are ready to help you with any questions you have. Whether you need help setting up a new hosting account or fixing an issue with your current account, we are here to assist you. We also offer helpful guides and tutorials to help you maximize your A2 Hosting service. You can trust that we will take care of your customer support needs quickly and efficiently.
A2 Hosting offers a reliable and high-performing web hosting service that is perfect for business owners and website developers alike. Their exceptional customer support, fast server speeds, and user-friendly control panel make it easy to manage your website and ensure it runs smoothly. With a range of affordable pricing plans and a 30-day money-back guarantee, there's no reason not to try A2 Hosting for your next website project. We highly recommend A2 Hosting as a top choice for web hosting. Start your journey with A2 Hosting today to experience the best in web hosting!
A2 Hosting Review
Price Starts at $2.99/mo
SAVE Upto 66% Over the Monthly
Go To
Positive
A2 Hosting offers robust hosting packages, especially for WordPress sites.
Their customer service is excellent and readily available.
They have an impressive uptime record and fast load times.
A2 Hosting has a good money-back refund plan and four server locations to choose from.
The company also provides free site migration services and robust security features.
Negatives
There are no Windows server options available with A2 Hosting.
Compared to other hosting services, their pricing may be relatively expensive, especially upon renewal.
No free website builder is offered by the company.
With their base plan, only one website can be hosted at a time
A free domain name is not included in any of their plans